The 2015 TLX is so important to Acura's proclaimed renaissance that its importance is hard to overstate. While thew latest dullard RLX fails to wow just about anyone, its new ad campaign proclaims that "Yes, We Are There Yet."
We Are? That is a concern on many levels because there is a distinctly hollow and untrue ring to that slogan.
The RLX suffers from lackluster appeal due to its inexplicable failings next to the Honda Accord, of all unlikely competitors. THe Accord is generally larger in all interior dimensions, and even a bit quicker in the sprint via a V6 model that is a dead ringer for the twice-as-much RLX.
Lastly about the RLX slow-mo failure: it still wears its proud woodchuck nose piece in the grille — which time has not made more appealing. It is shocking that Acura is still trying to shove this hideous idea down buyers' throats.
On to the TLX then — which brings a dramatically changed set of two new engines and two new transmissions to the table.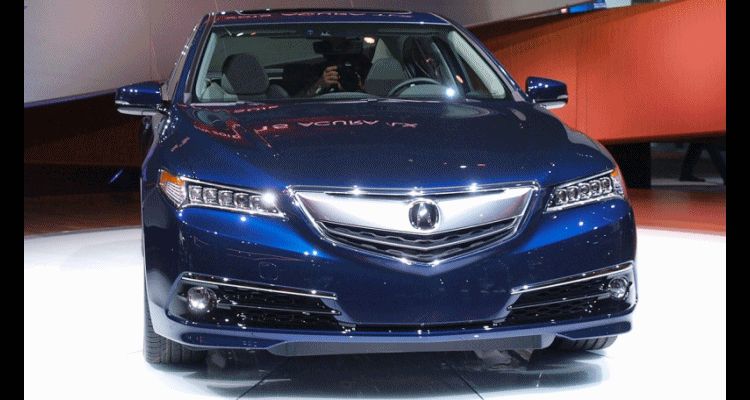 But has it corrected all the above failings that have made the current TL such an engorged waste of money in its current skin?
Not exactly. Or, more accurately, not much at all.
The woodchuck grille shield is even more appalling in its bright-work presence because a simple dark-trimmed option would make it effectively disappear.
Previous theories here on why this gobsmacking design face is still around, more than eight years since it first shocked Acura sales down to barely-perceptible levels?
The coming NSX is thought to wear the big central tooth as well — meaning all these other models have been forced to bottom-up the design while waiting for the halo flagship's face to appear in production form.
Initially, this new TLX seems bad-looking and uncompetitive versus anything, really. Not least the Cadillac ATS, BMW 320i, Mercedes-Benz CLA250, Lexus IS200, Infiniti Q50. It only seems like it benchmarks the soon-replaced Audi A4.
It seems like just another in a series of huge failures by Acura to connect and reflect current buyer moods.
Fingers crossed that  the TLX looks more like the concept and less like the bloated ILX that these initial photos suggest.
But those hoping for a clean and mechanically-smoothed aesthetic from the first-gen TL are sure to be shopping elsewhere now regardless.
Objectiveness, please?
If this style does appeal to you, the new TLX is a far more rational machine. Its four-cylinder power will replace the current TSX altogether, while the interior promises far fewer buttons and better (ie not terrible) tech solutions for things as should-be-standard-equipment as a high-quality graphical naivation and backup camera. These given features on any Accord have typically been at least five years out of date on every previous Acura.
Objective design assesment? This car's proportions are still ghastly compared with everything that is rear-drive. The nose is too long by a foot or more, the rear rising swage line accentuates this beak-like overhang, and the LED lighting is fresh, but not exactly love-able.
One might wonder how much wood this woodchuck face still has left before it demolishes the entire Acura forest.
Official Details below from Acura.
2015 ACURA TLX UNVEILED AT THE 2014 NEW YORK INTERNATIONAL AUTO SHOW

16/04/14
Two new, high-performance engines backed by new 8- and 9-speed transmissions

Most advanced dynamic package ever offered by Acura

Sophisticated design, premium refinement and extensive luxury appointments

04/16/2014 – NEW YORK, N.Y. — Acura today unveiled the all-new 2015 TLX performance-luxury sedan at the 2014 New York International Auto Show (NYIAS). Developed under the theme of Red Carpet Athlete, the all-new TLX is designed to deliver a unique and compelling blend of sports-sedan athleticism and premium luxury refinement.

"Harnessing the exhilarating power of new engines, new highly-efficient transmissions and next-generation dynamics technology – blended perfectly with impeccable style and luxury – the TLX will deliver a thrill like no other," said Mike Accavitti, Senior Vice President and General Manager of Acura. "Both the considerable performance capabilities of the TLX and the serious energy and resources brought to the brand from the newly dedicated Acura team herald the start of a new era for Acura."

To achieve its dual mission of even sharper sports-sedan performance and increased luxury refinement, the TLX employs a host of new advanced powertrain and super-handling technologies. Powering the 2015 TLX are two Acura exclusive, high-output direct-injected i-VTEC® engines, a 2.4-liter 16-valve, 4-cylinder engine producing 206-horsepower1 mated to an all-new 8-speed dual-clutch transmission (8DCT) with torque converter; and a 3.5-liter 24-valve V-6 delivering 290-horsepower2 mated to a new 9-speed automatic transmission (9AT). For handling prowess, the TLX features the latest iterations of Acura super-handling technologies – Precision All-Wheel Steer (P-AWS), Super-Handling All-Wheel Drive (SH-AWD), and Agile Handling Assist (AHA). These new technologies, in combination with its all-new body and chassis design, make the TLX the most dynamically advanced Acura ever produced; quick and responsive in sporty driving, stable and sure-footed in emergency maneuvers, and calm and quiet during long-distance cruising.

The TLX's new chassis, powertrains and precision-handling technologies are wrapped in a lithe new exterior design with taut body surfaces, dynamically sculpted fender arches, and purposeful character lines. Its sporting character is further highlighted by its more compact sports-sedan proportions. Luxury exterior features include Acura's signature Jewel Eye™ LED headlights, standard on all models. The spacious five-passenger interior of the TLX provides a high degree of refinement, luxury and technological sophistication while supporting an exhilarating driving experience. High-end premium elements include a soft-touch, one-piece instrument panel upper cover, alloy and wood-grain design accents, and available Milano leather seating surfaces and trim.