Since winning 2013's Best New Exotic car award here on Car-Revs-Daily.com,  the W Motors team has been anything but idle. The Lykan HyperSport's whirlwind tour continues this spring with its European debut in Monaco April 17th through the 20th.
Despite not exactly being street-legal in Europe and the United States yet — that is not likely to be a problem for this hypercar's ~ten total owners. Not street legal there?
Here is how the buyer conversations might go…
"Let's have the Lykan as our Paul Ricard HTTT track car, or maybe we should just order it shipped to the Singapore penthouse?"
This is a level of affluence that means the Lykan will probably have its own special parking space.
In the cargo hold of a an owner's A380!
It is an amazing machine — with powertrains by RUF that owe their original boxer layouts to Porsche — before being heavily upgraded to a race-winning level of power output.
The Lykan also has a very appealing and unique aesthetic to every component, which speaks to the ultra-demanding clientele in this price range. It is not just a car: it is a showpiece.
But this artwork can dance sideways and hit 60-mph in just 2.8 seconds! It also has holographic dash displays, diamonds in its LED headlights, a carbon-fiber key to automatically open the scissor suicide doors on approach, and many more stunning features throughout.
        
Cruise over to the W Motors site for even more info — and stay tuned for the next-gen SuperSport, which is promised to be slightly more affordable and produced in higher numbers than this extremely exclusive launch model for W Motors.
Perhaps closer on the horizon than the SuperSport is W Motors Racing – which is teased below showing a full LeMans-level aerodynamic overhaul of the Lykan's nose…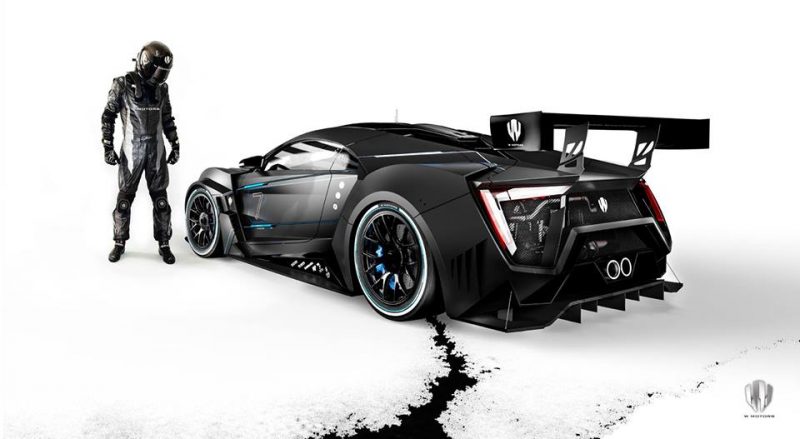 Other Lykan Articles on Car-Revs-Daily.com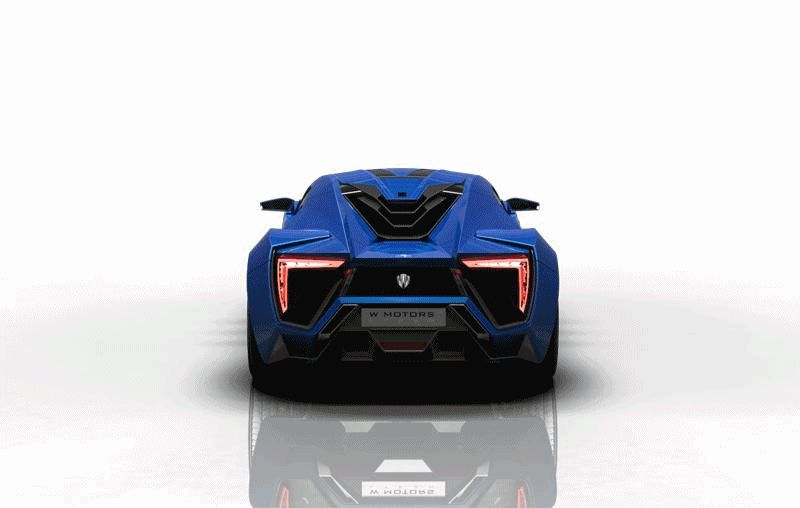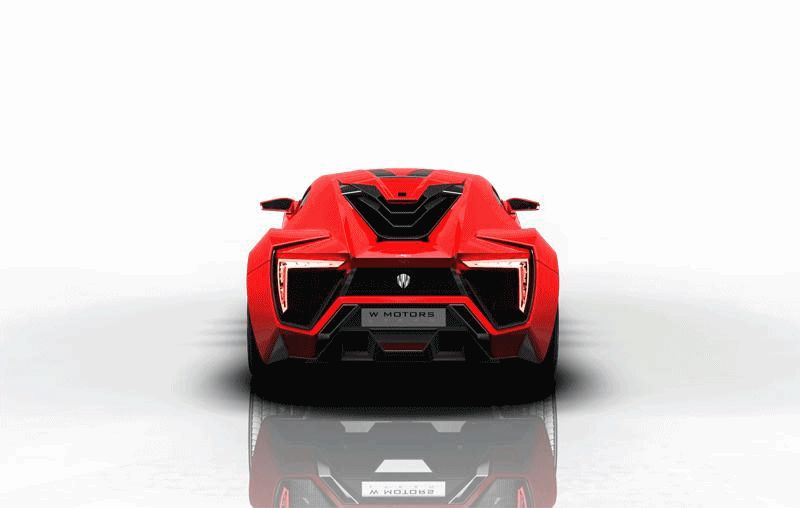 2014 Lykan HyperSport — TECH SPECIFICATIONS
BODY
Coupe Only

Carbon Composite Body

Unique W Motors Styling

Exclusive Exterior Paint Schemes
ENGINE
Boxer Type, 228.6 in3, 3746 cc Flat 6

Twin Turbocharger with Independent Intercooler

Mid-Rear mounted engine

Rear Wheel Drive

Fully Catalyzed, stainless steel exhaust system with active bypass valves

Max Power 552KW (770hp) at 7100 rpm

Max Torque 960Nm at 4000 rpm

Acceleration 0-100 km/h (0-62 mph) in 2.8 seconds

Acceleration 0-200 km/h (0-125 mph) in 9.4 seconds

Maximum Speed 385 km/h (240 mph) (dependent on the gear ratios)
TRANSMISSION
Six Speed Sequential Gear or Seven Speed Dual Clutch PDK

Limited Slip Differential

Transversely Rear Mounted
SUSPENSIONS
Front Axle: McPherson-strut, anti-roll bar

Rear Axle: Multi-link suspension, horizontal coil over shock absorbers, anti-roll bar
WHEELS AND TIRES
Front Wheels: 8.5" x 19"

Back Wheels: 12.5" x 20"

Front Tires: 255/35 ZR 19

Back Tires: 335/30 ZR 20