The Juke S is the most affordable spec in the trim lines that also include SL, SV, Nismo and the new-for-2014 Nismo RS model.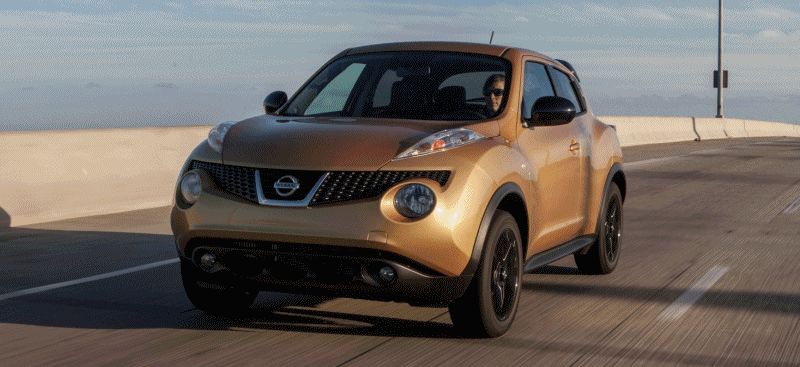 While loving the 2013 Nissan Juke NISMO recently, and giving it the Best Turbo Sports Car, Under $25,000 Best Of Award here on CarRevsDaily, we realized something else.
What was that discovery? In the latest new-for2014 paint colors like this triple black: this is a car that looks and feels like it is worth at least $10,000 more than its $24,000 total price.

The NISMO is $24,000, but honestly represents such good value for this style and performance ... that other road users will never know it is not $35,000.
Another relatively unknown item about the Juke from Nissan? All of the models have really good base power via the same turbocharged 1.6-liter engine. So what if $24,000 for the NISMO is still out of reach? Is the Juke only cool as a Nismo item?
Nope, not at all. Not only are the base Juke models available with front-drive and a six--speed manual (or AWD and an automatic), they are *thisclose* to the NISMO cars in terms of road presence.
How? The base S trim offers both the Sport package with body-color accents to the extra rear wing, and a delightful Midnight Edition for this $19,000 car as well. The Midnight is the car pictured here in gold, which really makes its black accents pop like fireworks.
THe rear spoiler, rims and mirrors all add a rich coat of metallic black, and it totally transforms the street cred of this pocket rocket.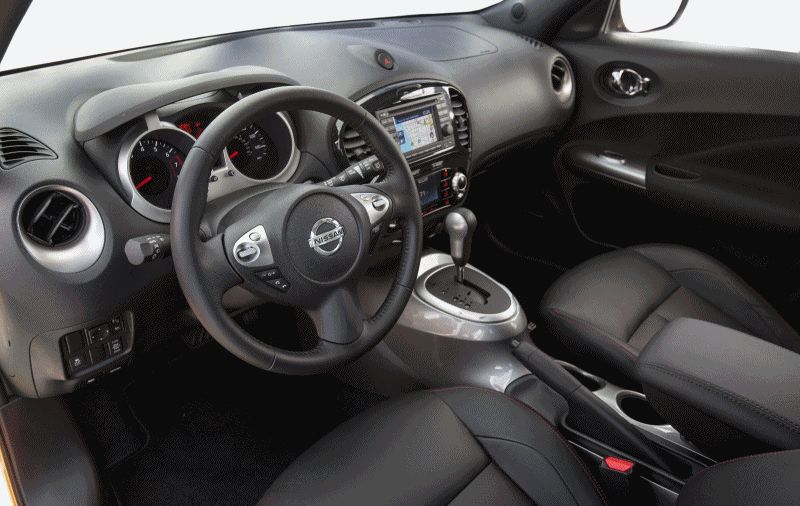 The full stats, pricing and specs are below from Nissan. But the proof is really in the drive quality for the Juke. Go check it out. If this isnt the best seating position, steering feel and handling verve for under $20,000 --- I will eat my hat!
No tall-crossover tippiness, and enough versatility to get things done. As the Midnight Edition, this $20,000 Juke carries much of the cache of its NISMO brothers. Just at a far more friendly price.
2014 Nissan Juke - Pricing
Models and Manufacturing
Offered in seven well-equipped models: JUKE S CVT FWD, JUKE S CVT AWD, JUKE SV CVT FWD, JUKE SV M/T FWD, JUKE SV CVT AWD, JUKE SL CVT FWD, JUKE SL CVT AWD
Also available in JUKE NISMO
Assembled by Nissan Motor Co., Ltd in Oppama, Japan
BASE VEHICLE
Description
Suggested List Price(1)
S FWD
1.6 Liter DIG™ Turbo
CVT
$18,990
SV FWD
1.6 Liter DIG™ Turbo
MT
$20,990
SV FWD
1.6 Liter DIG™ Turbo
CVT
$22,040
NISMO FWD
1.6 Liter DIG™ Turbo
MT
$22,990
SL FWD
1.6 Liter DIG™ Turbo
CVT
$24,290
S AWD
1.6 Liter DIG™ Turbo
CVT
$20,990
SV AWD
1.6 Liter DIG™ Turbo
CVT
$23,740
NISMO AWD
1.6 Liter DIG™ Turbo
CVT
$25,290
SL AWD
1.6 Liter DIG™ Turbo
CVT
$25,990
 2014 Nissan Juke - Options
| | | | | | | |
| --- | --- | --- | --- | --- | --- | --- |
| FACTORY INSTALLED OPTIONS | Suggested List Price(1) | S | SV | SL | NISMO FWD | NISMO AWD |
| Navigation Package | $1,200 | | • | | • | • |
| Midnight Edition | $1,200 | • | | | | |
| Sport Package | $1,350 | • | • | • | | |
| | | | | | | |
| --- | --- | --- | --- | --- | --- | --- |
| PORT INSTALLED OPTIONS | Suggested List Price(1) | S | SV | SL | NISMO FWD | NISMO AWD |
| Black Mirror Covers | $215 | • | • | • | | |
| Splash Guards | $145 | • | • | • | | |
| Premium Appearance Package | $1,195 | • | • | • | | |
| Stainless Exhaust Finisher | $105 | • | • | • | | |
| Carpeted Floor Mats & Cargo Mat | $180 | • | • | | | |
| Carpeted Floor Mats & Cargo Mat | $180 | | • | • | | |
| NISMO Carpeted Floor Mats & Cargo Mat | $215 | | | | • | • |
| NISMO Carpeted Floor Mats & Cargo Mat | $215 | | | | • | • |
| Illuminated Kick Plates | $295 | • | • | • | • | • |
| Interior Illumination Package | $505 | • | • | • | • | • |
| Center Armrest | $250 | • | • | • | • | • |
| Rear Roof Spoiler | $435 | • | • | • | | |
| 17" Gunmetal Wheels | $955 | • | • | • | | |
| 17" Black Wheels | $1,050 | • | • | • | | |
 2014 Nissan Juke - Specs
Specifications are based on the latest product information available at time of printing
Mechanical
Engine
Name
MR16DDT
Orientation
DOHC
Cylinders / configuration
Transverse
Block / head composition
Aluminum / Aluminum
Displacement (liters / cc)
1.6 liters / 1,618 cc
Horsepower
188 hp @ 5,600 RPM
Torque (lb-ft)
177 lb-ft torque @ 2,000 -5,200 RPM
Bore & stroke (mm)
79.7 x 81.1
Compression ratio
9.5:1
Maximum engine speed
6,400 rpm
Induction system
Turbocharger with intercooler
Valvetrain
16 valve; silent chain, single-stage
Fuel delivery system
Sequential Direct Injection Gasoline (DIG™)
Recommended fuel
Premium unleaded
Emissions system
Oxygen sensor with catalyzer
Emission certification level
LEV2-ULEV
Exhaust
Single exit / main & secondary mufflers
Electrical
Ignition system
Electronic (direct ignition)
Starter
12 volt
Alternator
110 Amps
Battery
12 volt, 62 amp-hour rating
Transmission and Drive System
Drive configuration
Front engine/ FWD or AWD
Transmission type
6-speed manual
1.6 SV FWD
Continuously Variable Transmission (CVT)
1.6 S, 1.6 SV, 1.6 SL - FWD and AWD
Transmission type
CVT or 6-speed manual
Gear ratio (:1)
2.349

6MT

     1st
↓
3.363
     2nd
1.947
     3rd
1.392
     4th
1.114
     5th
0.914
     6th
0.394
0.767
     Reverse
1.750
3.291
Final drive ratio (:1)
5.798
4.214
Torque vectoring all-wheel drive system
S - AWD models
Transfer Case / Crawl Ratios

AWD

-
   Crawl ratio: 1st
0.404
   Crawl ratio: 2nd
0.404
   Crawl ratio: reverse
0.404
Vehicle Dynamic Control (VDC)
S
Traction Control System (TCS)
S
Brakes
Front
Type
Rotor size diameter and thickness (in.)
Vented disc
11.7 x 1.02
Rear
Type
Rotor size diameter and thickness (in.)
Solid disc
11.5 x 0.35
ABS (4-wheel, 4-channel, 4-sensor)
S
Brake Assist (BA)
S
Electronic Brake force Distribution (EBD)
S
Parking brake
Hand brake in center console
Steering
Type
Electric power-assisted
Power-assist
Vehicle-speed-sensitive
Overall ratio (:1)
16.5
Turns (lock-to-lock)
2.76
Turning diameter (in feet)
36.4
Steering wheel
Urethane
Leather-wrapped
3-spoke
S
SV, SL
Steering wheel mounted switches - cruise control, audio, Bluetooth
S
Manual tilt
S
Suspension
Front
Independent strut
23 mm diameter
Stabilizer bar
Rear
FWD
AWD
Torsion bar with integrated stabilizer bar
Multi-link with stabilizer bar
Shock absorbers
KYB (twin-tube)
Body / Chassis
Type
Unibody
Materials (primary)
Corrosion-resistant and high strength steel
Exterior
Wheels & Tires
S
SV
SL
7Jx17-inch aluminum-alloy wheels
S
7Jx17-inch black aluminum-alloy wheels
O
-
-
7x17-inch sport aluminum-alloy wheels
-
O
O
215/55R17 Goodyear Eagle RS-A all-season tires
S
Spare tire
T135/80D16
T135/90D16
FWD
AWD
Tire Pressure Monitor System (TPMS)
Type
S
Warning type