Shock!
Our DIY Colorizer of the Lamborghini Huracan from December was a bit wilder than the actual palette of colors offered from Lamborghini this time around.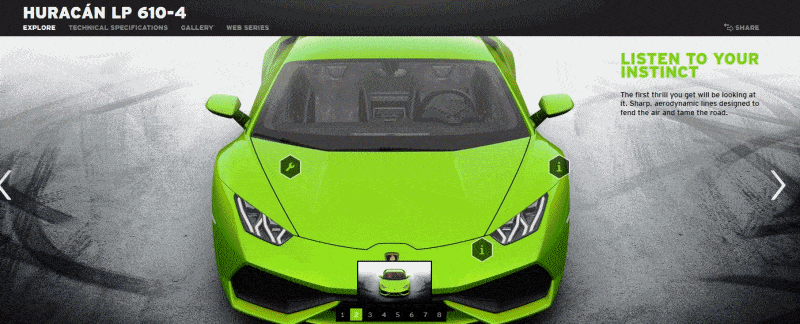 Yes, there is Mantis Green and a few yellows and even a Creamsicle orange shade.

The 90-second video below is a must-watch drift and burnout feat. It is part of the Hexagon Project web series for the Huracan's launch -- which basically sends two Brits to Italy on a mission to hoon the newest, hottest Lambo in the world.

All-new double-clutch box, 3.2-seconds to 62-mph, and a much more pronounced rear torque bias for the standard AWD system?
Check, check, check.

DSG's new Italian nickname: "Lamborghini Doppia Frisione" (say 'fahreezi-ooonnneeee:)

3.2-seconds to 62 mph? Check.

Under 3.0-seconds to 60 mph? Check.
But the real color and configuration trend seems to be new whites, greys, browns and black shades in either gloss or matte finish.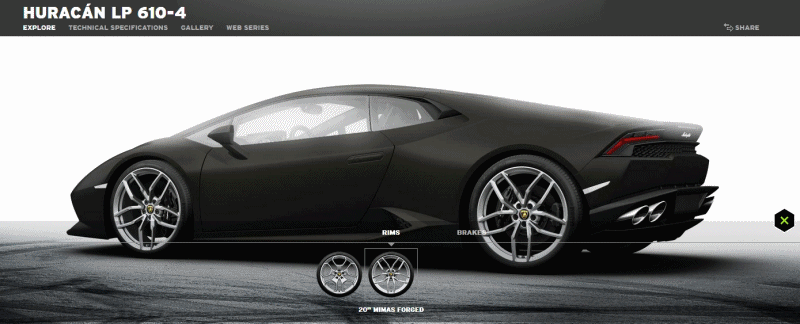 Lamborghini's are low enough to fly under advanced radar/laser/lidar beams -- but this new upscale theme for the cars only enhances their appeal for many.

A subtle color makes this high-strung exotic look more comfortable in its own skin. Less of a "The Situation," in Jersey-speak.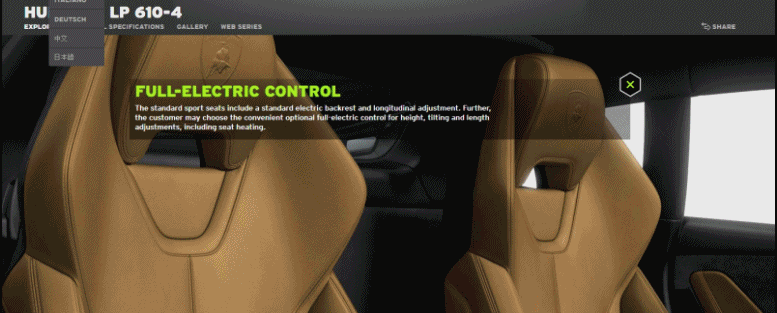 This time: the sound, proportions and glamour of the Lamborghini will make as strong an impression as some of the Jersey-fantasy shades of the previous Gallardo.

Another exhaust clip is linked below from the Hexagon Project - an exceptional (and new type of presentation) website for the new Huracan.
The full web series is pretty cool as well, with drifting and wild laughs from the boys as the discover the Huracan's charms.
The full details and all these configuration options are viewable here:
Official Exterior Colors
Official Exterior Options
Inside, things also take a few steps toward high-class clients as well.

A few themes focus on monotone or two-tone finishes inside, and the leathers look classy enough to be from the Bentley catalog. (In fact... oh, nevermind.)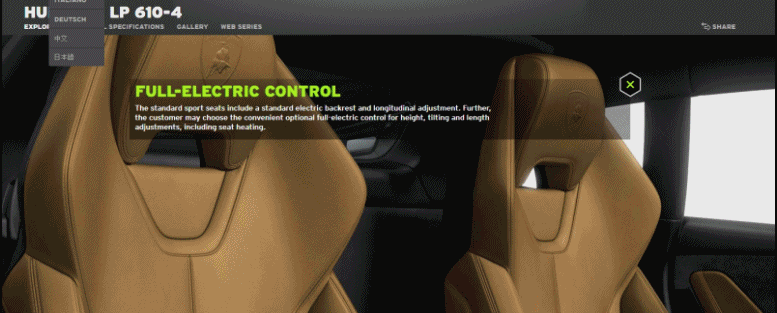 The new seats are all things to all men: racing bolsters plus side airbags plus power adjustment as standard.
This is truly a new class of Lamborghini -- with the initial 700 orders flooding into Sant'Agata like a category 5 whirlwind.
Technical Specifications

Chassis and body

Frame:hybrid aluminum/carbon fiber

Tyres and wheels

Front wheels:20" alloy wheels

Rear wheels:20" alloy wheels

Brakes

Brakes:Monobloc fixed calipers in aluminum with 6-pistons (front) and 4 pistons (rear). Ventilated and perforated carbon-ceramic disc brakes

Engine

Type:

V10 90° IDS, 40 valves

Displacement:

5,204 cm³ (317.6 cu.in.)

Compression ratio:

12.7 : 1

Maximum power:

610 HP (449 kW) @ 8,250 RPM

Maximum torque:

560 Nm (412 lbft) @ 6,500 RPM

Performance

Top speed:325 km/h (202 mph)

Acceleration 0-100 km/h (0-62 mph):3.2 s

Acceleration 0-200 km/h (0-124 mph):9.9 s

Dimensions

Dry weight:1,422 kg (3,135 lb)

Weight/Power:2.33 kg/HP (5.14 lb/HP)

Fuel consumption *

e-Gear transmission

Urban consumption:

17.8 l/100 km

Extra urban consumption:

9.4 l/100 km

Combined consumption:

12.5 l/100 km

CO2 emission:

290 g/km