Hooray! The 2015 BMW X3 debuted last night in a sneak peak at the Chicago auto show – and all seems well for this glamorous new five-seat crossover.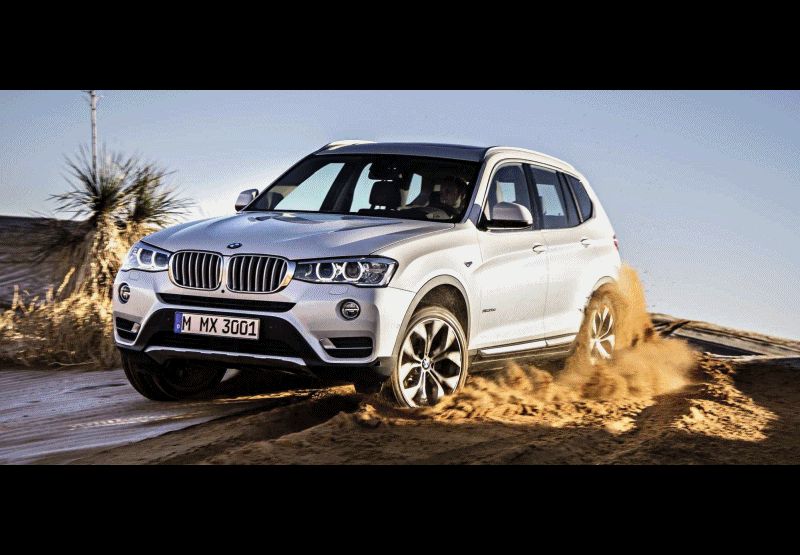 Why the elation? I hated was not a fan of the previous X3.
Sometimes my own critiques are so scathing that the words echo and reverberate in my head after I type and publish them. What do I mean?
Well, I called the previous X3's LED and nose look a "zombie-like stare." Accurate? Maybe, maybe not. Memorable? Perhaps too much so.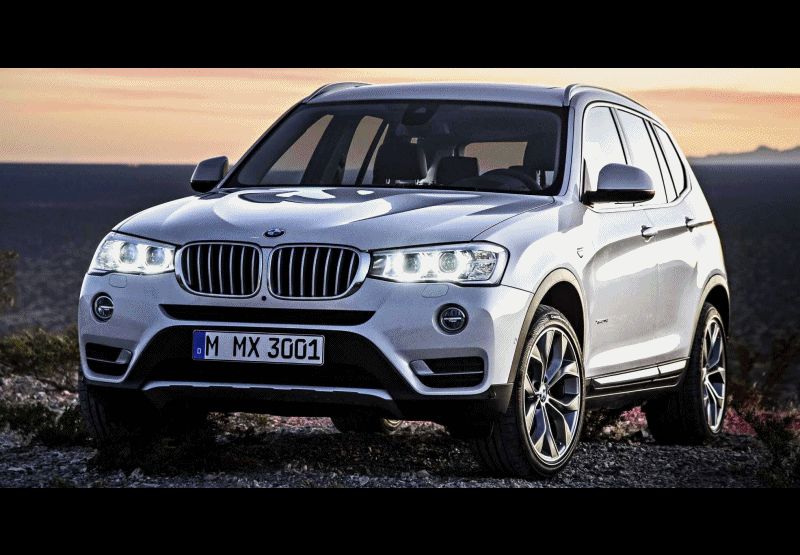 The X3 has indeed been a rougher launch than expected for BMW since 2009. Built with its big brother in Spartanburg, the X3 in its current generation felt very 'yester-tech' versus the posh and rapid Q5 and dozens of other premium mid-size SUV models.
Demand was so weak that an X3 M was ruled out early in the game for that zombie SAV — but this new 2015 model really could wear performance parts with pride.
The 2015 refresh could not come at a better time for BMW, just as the all-new 2014 X5 is hitting showrooms with a big more volume. The X3's new look is a solid evolution of the BMW SUV style – with a large and prominent 3D kidney grille, far more progressive and expressive panel shapes, and a much more premium overall appearance.
But the best part for me is the new LED lighting up front, which banishes the "Zombie Stare" in favor of refined and classy aesthetics. In fact, most drivers will have difficulty knowing if the BMW behind them is the new X5 or the X3.
All great news for buyers and BMW's sales charts. The X3 will now be a real double threat in showrooms for buyers who are sticker shocked by X5's price or seven-seater dimensions. Oh, that one is too big? How about this one?
Juuuust riiiight.
The debut 2015 X3 wears the xLine trim – which is the volume leader but not quite as dynamic as the as-yet-unseen M Sport trim.
BMW's trim level upgrades for most of its models is a really smart part of their current strategy. Simply changing the grille finish and front bumpers totally transforms the X1's road presence, and at a fraction of the price of a full re-style.
It also allows buyers to go for a specific mood in their cars – almost customized right from the factory. These variations ensure a bit more variety and exclusivity versus the identi-kit Toyota or Acura SUVs – which all look basically the same no matter if bare-bones base models or the top models with $12,000 in options.
The X3 will also bring the 28d clean diesel engine option, with the 28i four-cylinder turbo and 35i turbo six-cylinder also in the cards. Pricing will move up modestly with the refresh, but nothing major. Pricing starts at about $39,000 for the (newly-available, rear-drive) sDrive28i gasoline model.
All three engines pair with BMW's exceptional steptronic ZF eight-speed automatic, with paddle shifters standard in the M Sport trims.
The base rear-drive sDrive28i hits 60 mph in just 6.2-seconds, per BMW below, which is a great achievement for this efficient engine choice.
The xDrive28i – an all-wheel-drive version of the above – is just as rapid. BMW's TwinPower turbo four delivers 260 pound-feet of torque in the rear-drive models of the X1 — but nearly 350 pound-feet of overboosted torque for the xDrive28i models.
Does that make sense? Same engine, but much higher turbo boost assistance in the AWD models to offset their inherent weight increase.
All flavors of the hot 2015 X3 are set to hit American BMW showrooms by May of this year — but you must act fast with a deposit pronto to get one by then.
Huge global demand for BMW SUV's means BMW North America must tussle with BMW UK, BMW AG and all the other global markets to secure the max allotment of 2015 X3's.

2015 BMW X3 – xLine trim – Exteriors
2015 BMW X3 – xLine trim – Interiors
Official details from BMW below.
The New BMW X3 Sports Activity Vehicle