The BMW Z4. Yesterday we explored the Zagato restyles of the 2012 Z4 Roadster and Zagato Coupe - which are not exactly gorgeous and arguably look much worse than even the OEM BMW Z4.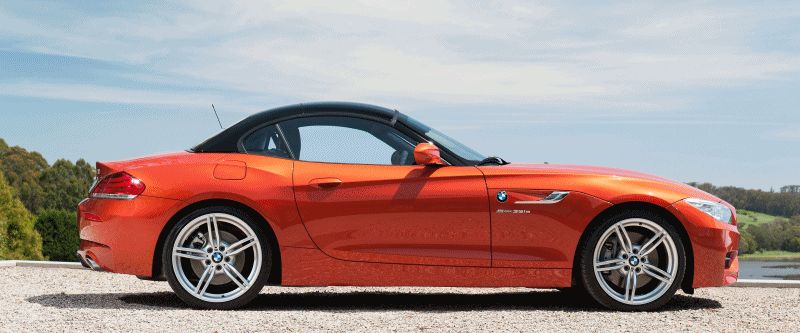 This is a major problem for the Z4 when its new prices, positioning and German assembly are taken into account.
In the 10 years between 2003 and 2013, sales in the U.S. and Canadian markets for the Z4 have logged a calamitous 90-plus percent drop.

We prepared the above chart based on the GoodCar-BadCar data to illustrate the changing tides for the BMW Z4.
A few other things popped up as possible causes of the Z4's near-demise: all of which point to BMW consciously lessening the Z4's importance versus the real cash-cow SUV models X3 and X5.

So what happened to the carefree $35,000 BMW roadster we all remember so fondly?
--- Assembly moved from Spartanburg, SC back to Europe with intro of 2002 BMW X5 SAV
--- Prices are ridiculously too-high: $49,000 for the Z4 sDrive28i up to $70,000 for the Z4 sDrive35iS M Sport
--- Styling is very frumpy from anything but the front angles
So, let us assume this was a conscious move on BMW's part. Is the Z4 really in Porsche 911 Carrera Convertible leagues, in terms of performance? The Z4 is a bit steeper than most Boxsters in terms of pricing, which will always be a losing battle for BMW.
The value proposition simply does not seem to be valid whatsoever for the Z4 any more. As basic as it is, the more money a car costs ===>>> the more car Americans want for that money.
The Z4 still wears flyweight dimensions ... but brings a hugely compromised cabin and trunk with its latest folding hardtop. Put simply: is this tiny sports car with old-fashioned suspension possibly worth 3X the price of the MX-5 Club?

The options and trims speak to the Z4's new halo sportscar status within the BMW range: they are all pretty repulsive and aimed at European or global shoppers.
Example? The super-brown M Sport pack, the Valencia Orange M Sport packs, and many others are a million miles from what sports car shoppers in Valencia California actually want.
White or Estoril Blue with dark black rims and trims? Perhaps.
But this is still a tiny car with a ginormous price for its size and lack of badge kudos versus a Porsche or Lotus.
We spent some time in the configurator - and honestly came out of it more confused than when we started this article! Simply mind-boggling spec prices put paint at a $4000 premium, but make heated seats and even a seven-speed dual-clutch just $450 options.
Huh? My thoughts exactly. Since when is fugly, out-of-style orange paint so much more precious than serious performance parts?
The Z4 basically seems like a bit of catalog filler at the moment for BMW, with sales barely cresting 3,000 units total in all of 2013.
The latest car is still quite fresh and distinctive - but the above demerits and the steep pricing make the Z4 a very niche choice.

2014 BMW Z4 sDrive35is M Sport

Z4 Options
Exclusive Canyon Brown Package $1,650

• Anthracite Wood Trim

• Canyon Brown Extended Merino Leather

M Sport/Canyon Brown Package $4,050

18" Light alloy Star-spoke wheels style 325M-with performance run-flat tires
19" Light alloy V-spoke wheels style 296-with performance run-flat tires $1,200
M steering wheel
M Sports leather steering wheel with paddle shifters

• Anthracite headliner

• Adaptive M Suspension

• Anthracite Wood Trim

• Aerodynamic kit

• Canyon Brown Extended Merino Leather

M Sport Package $2,500

18" Light alloy Star-spoke wheels style 325M-with performance run-flat tires
19" Light alloy V-spoke wheels style 296-with performance run-flat tires $1,200
M steering wheel
M Sports leather steering wheel with paddle shifters

Anthracite headliner
Adaptive M Suspension
Aerodynamic kit
M Interior trim Aluminum Carbon Shadow
Anthracite Wood Trim

Cold Weather Package $700

• Retractable headlight washers

• Heated front seats

• Heated Steering Wheel

M Sport/Hyper Orange Package $3,500

• 18" Light alloy Star-spoke wheels style 325M-with performance run-flat tires

M steering wheel
M Sports leather steering wheel with paddle shifters

• Anthracite headliner

• Metal weave interior trim

• Adaptive M Suspension

• Aerodynamic kit

Extended Alcantara/leather Black/Orange with Black Orange color world $1,350
Extended Alcantara/leather Black/Orange with Black color world $1,350

Hyper Orange Package $1,000

• Anthracite headliner

• Metal weave interior trim

Alcantara/leather Black/Orange with Black/Orange color world
Alcantara/leather Black/Orange with Black color world

Extended Alcantara/leather Black/Orange with Black Orange color world $1,350

Extended Alcantara/leather Black/Orange with Black color world $1,350

Premium Sound Package $950

• Satellite radio with 1 year subscription

• Premium hi-fi system

Technology Package $2,250

• Voice-command

• Real Time Traffic Information

• BMW Online and BMW Apps

• Navigation system

• Enhanced USB and Bluetooth plus Smartphone Integration

• BMW Apps

• Remote Services

Performance Options
19" Light alloy V-spoke wheels style 296-with performance run-flat tires $1,200
Manual Transmission $0
Sports leather steering wheel with paddle shifters $0
7-Speed double clutch Transmission $450
Heated front seats $500
Concierge Services $250
Satellite radio with 1 year subscription $350
Automatic high beams $250