The London taxi market is heating up this winter, with companies eager to step in for the polluting, unsafe, unreliable and undignified British Manganese TX4.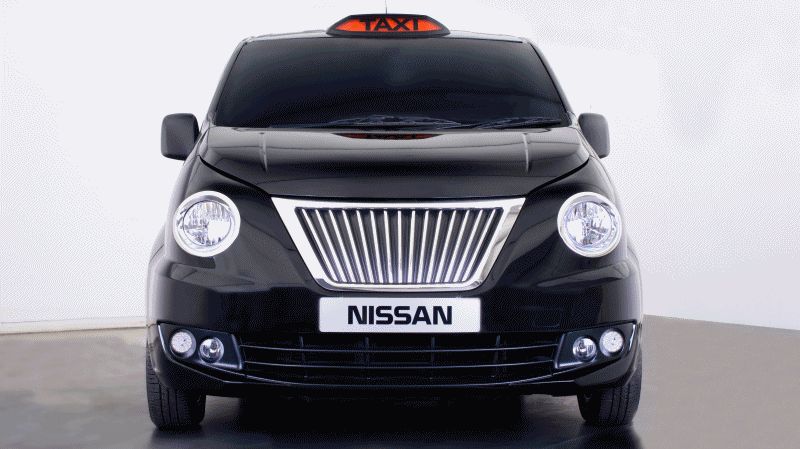 The Nissan NV200 - what I affectionately call the NissanTaxi4London - is a much better long-term solution to healthy, quiet and safe urban streets than any TX4.
Update: All the below critiques are aimed at the old, classic "London Cab" and not the Nissan.
Yes, yes. Nobody likes the TX4 on any rational level. But they have grown accustomed... to its face.
 
Why so hard on the old TX4 claptraps? This is a pure outside perspective - I live in Chicago where almost all the cabs are Priuses. They are tinny and hollow-feeling in back, but generally have zero engine noise and a decent ride/safety record.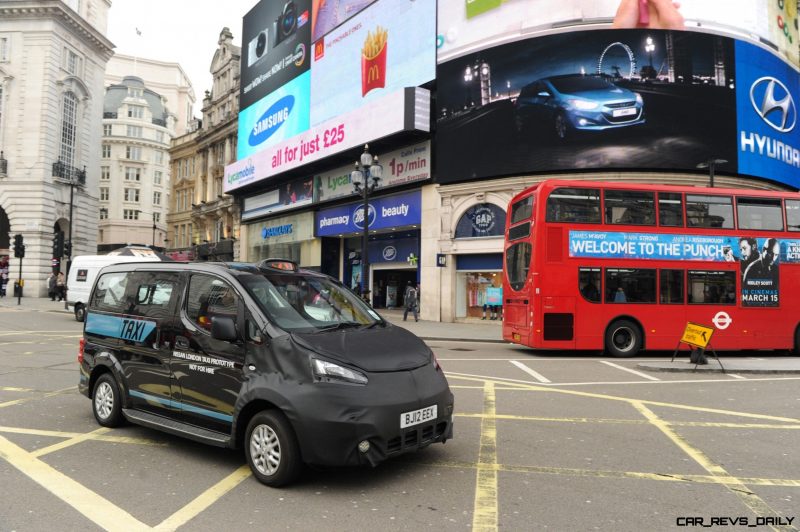 The only memories I have of the TX4 are being driven around the block at Marshall Fields before it became Macy's. They had one around the State Street doors for decor at the time. Or as a joke? Unclear.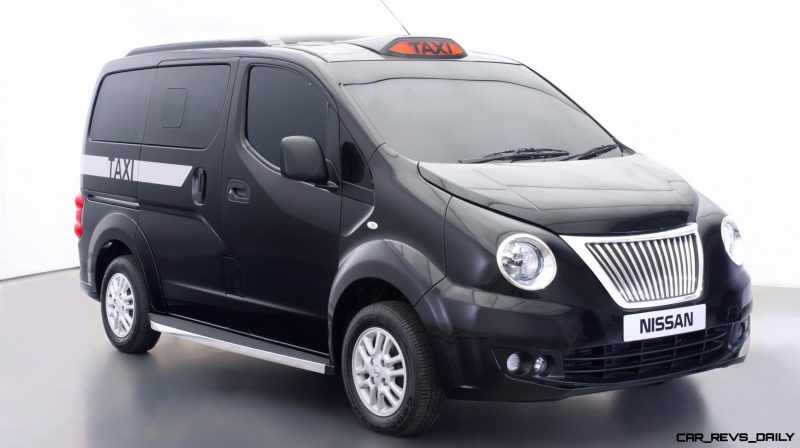 The car was a total abomination. To be in the back at high speed must be simply terrifying.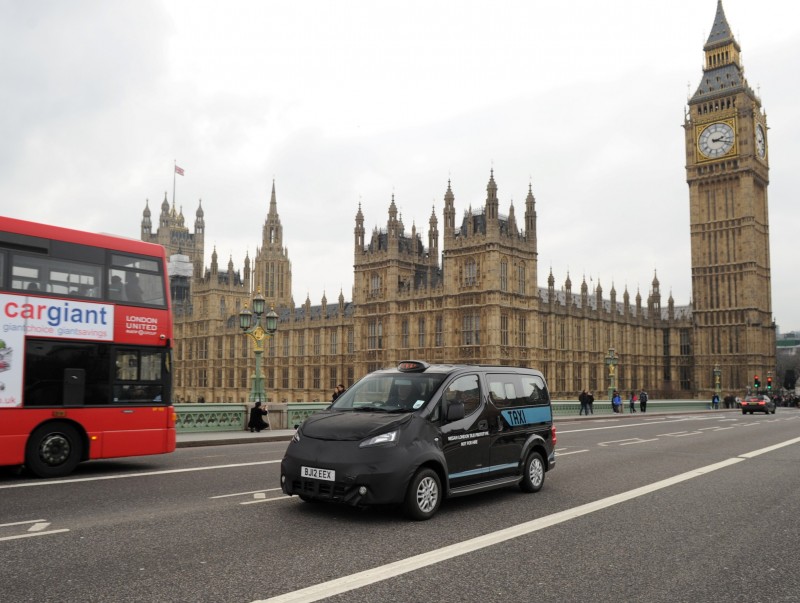 The TX4 felt like a golf cart with no muffler, venting half-burnt diesel exhaust directly through the floor.
It wears the shoddiest plastic panels this side of the Th!nk City, and covered in glass that is mounted and cut with the precision of a baboon.
The TX4 car is already a caricature of the previous full-frame and steel-bodied models, and is a total joke on many levels.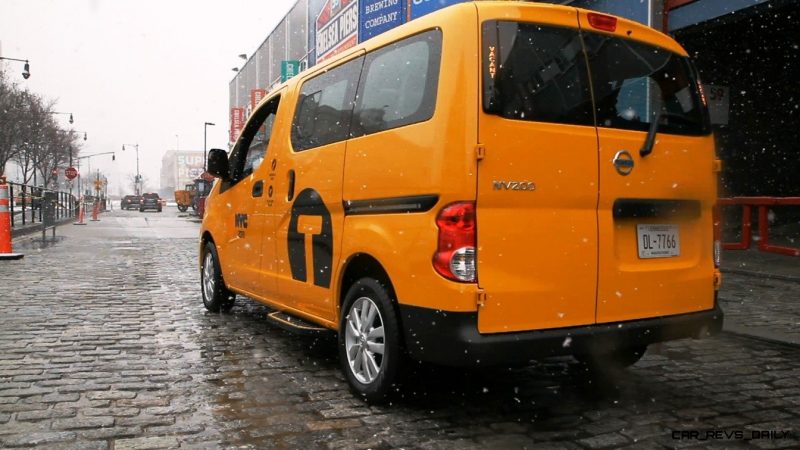 So it can make tight U-turns. British Manganese touts its maneouverability in the materials many times, but does not actually list a radius. Other sources peg it at about four meters, versus the new NissanT4L's official 7.6-meters.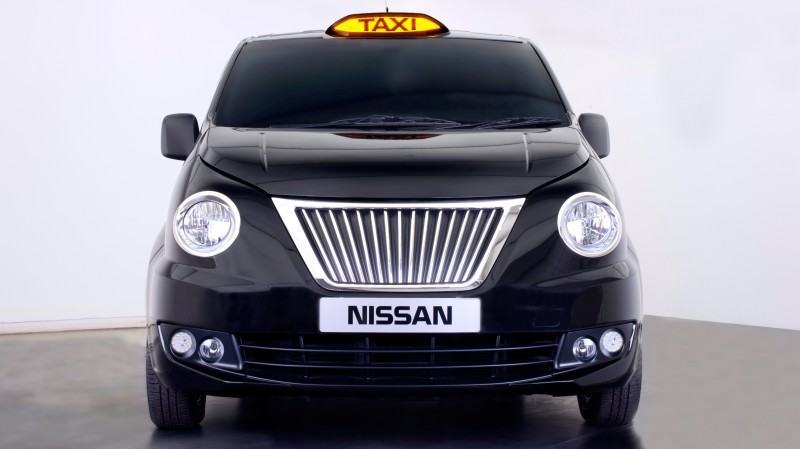 Two things about these facts:
--- The TX4's radius is only possible at a creeping speed, and therefore cannot really be measured the same way as a car that can hold that lock while on power.
--- While in the back of a taxi, how often do you shout for the driver to make a quick U-turn? Yes, London faces traffic problems unseen outside its huge city grid. But a sharp U-turn every cab ride would be enough to put me in a Town Car any day.

Pollution is obviously the major death-knell for this clattering tragedy on 12-inch wheels. Europe is suddenly becoming aware of how filthy with diesel soot all of their cities are. The whole continent needs a bath.
While in Madrid for my study abroad in 2002-2003, I would come home from classes like a normal city. But wash your hands? Black soot from everywhere. And those were old Toledo's and Primera taxi cabs.
To have such chronic polluters circling the city at all hours is borderline negligent on behalf of the city's respiratory health.
But enough reasons. Say you agree.
How to kill it off entirely? Stop exempting new models from crash testing. This thing folds up like a beach ball when crashed by modern-day standards. 1950s engineering plus three decades of de-contenting and manufactured cheapness is not safe at any speed in a city.
Airbags? Abs? OBDII? Nope, nope, don't think so.
Options?
The Nissan NV200 is a hardy machine with a high roof and a low floor, plus a gasoline engine clean enough to scoot up Carpool lanes in California when it is "on a fare."
A Zero Emissions model is also in the cards.
The new nose is a product of the local teams in Nissan's expanding design, R&D, branding and manufacturing bases across the UK.
Update1: While the design team in Paddington is surely very skilled, the NV200 is really, really ugly from most angles.
This "chrome" grille is appalling.
Trumpchi? I dont know.  I mean, I am a huge Nissan fan but even the NYC NV200 is really unpleasant. What is with the lower bumper under-bite?

Another option? The Transit Connect from Ford.
Silly U.S. "chicken tax" (import rules adding to price of Romanian-built Transit vans intended for passenger, vs commercial, use) issues mean the commercial Fordis actually likely to beat the new Transit Connect Wagon to American streets at least
Its import status to the UK is not clear. Shown below are the New York and Hong Kong Transit taxi liveries.
Ford Transit Connect Taxi
Nissan NV200 London Taxi
Nissan NV200 NYC Taxi
Nissan NV200 London Taxi Specifications*

Wheelbase

2.72m

Vehicle Height

1.9m

Vehicle Length

4.41m

Vehicle Width without mirrors

1.91m

Vehicle Width with mirrors

2.1m

Turning circle

7.6m

Engine Displacement (L)

1.6

# of cylinders

4

Engine Power (HP/kW)

115/86

Torque  (lb-ft/Nm)

117/158

CO2

179g

NOx

10mg/km

Particles

1.0mg/km

Driven axle

Front

Estimated Base Taxi MSRP

TBC

 (Key Feature List )

 
1.6 Petrol Engine, Front Wheel Drive
Anti-Lock Braking System (ABS)
Vehicle Dynamic Control (VDC)
Power Windows
Power Locks
Power Mirror
Air conditioning
Premium Vinyl Seat Materials
Primary Partition
Vinyl Floor
Exterior Graphics
Exterior and Interior Taxi lighting
2nd row tip seats with integrated seat back
3-passenger Bench Seat split 60:40
Panoramic Glass Roof
Rear heater and rear controls
Passenger Entry Step and grab handles
Driver's Bluetooth
Reversing Camera
Running Boards
Wheel chair access through nearside sliding door
Integrated rear facing restrained wheel chair position
USB and 12v passenger charging points
 
*Information on this document is tentative and subject to change.Engine efficiency and emissions are yet to be tested.  Figures shown are Nissan target and estimations from base vehicle testing and may change after full testing