This KIA GT4 Stinger Concept headline took many tries to get right!

Here are the key details:
– Superlightweight and low proportions
– Rear-drive, 315-horsepower turbo 2.0-liter
– Sleek shape with black-frame glasshouse and very sexy nose
– Concept.
– Subaru BR-Z dynamics we all want
– But far more speed: 115 extra horsepower versus 2.0-liter atmospheric boxer in BR-Z
I like the styling from most angles, and think it will be extremely cool in black. THe rear end seems a bit too streamlined for my tastes, but does have a big hatchback cargo area versus the BRZ's tiny, tiny trunk.
The cargo hold has a lower compartment for putting groceries — to keep things from flying everywhere in back when drifting on demand.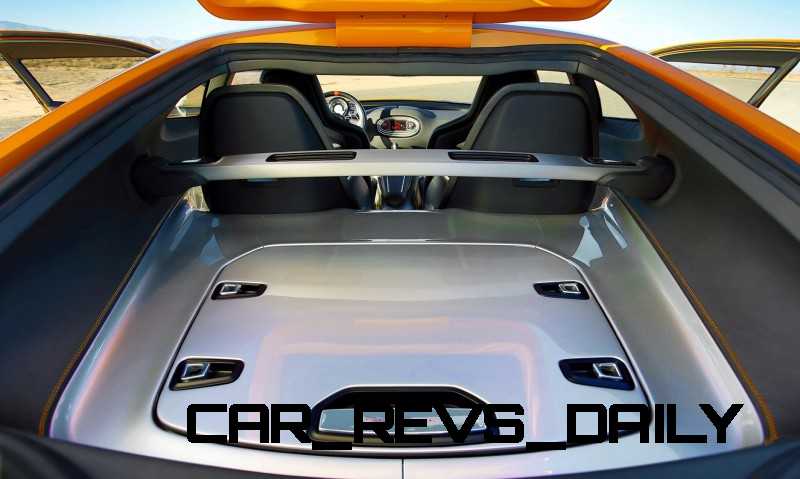 the concept of affordable and fast rear-drive coupes, the stack of LED headlights and even without seeing it up close yet.

I also love the cabin's thin doors and the portholes up the interior A-pillars.

These would be amazing when seriously sideways – with hopefully some production possibility in the future via new, superstrong materials.
This car is a concept, which is a bit of news to me prior to reading the official release details. But hopefully "Concept" in this sense points to some real fun down the roads — and around curvy tracks — in a future KIA performance platform!
KIA SHOCKS THE MOTOR CITY WITH REAR-DRIVE GT4 STINGER CONCEPT
High-Powered Sports Car Focused on Connection Between Driver and Machine Makes World Debut at 2014 North American International Auto Show
2+2 seating configuration, 315 turbocharged horsepower and six-speed manual transmission make GT4 Stinger a true enthusiast's machine

GT4 Stinger was conceived by the "gearheads" in Kia's Irvine, Calif., design studio, birthplace of iconic concept vehicles such as the Track'ster and Cross GT