Mercedes-Benz is evolving its marketing and product positioning drastically. Executive rumblings from a few years ago indicated the brand was making serious changes to lower its perceived demographic - but it all just seemed like lip service at the time.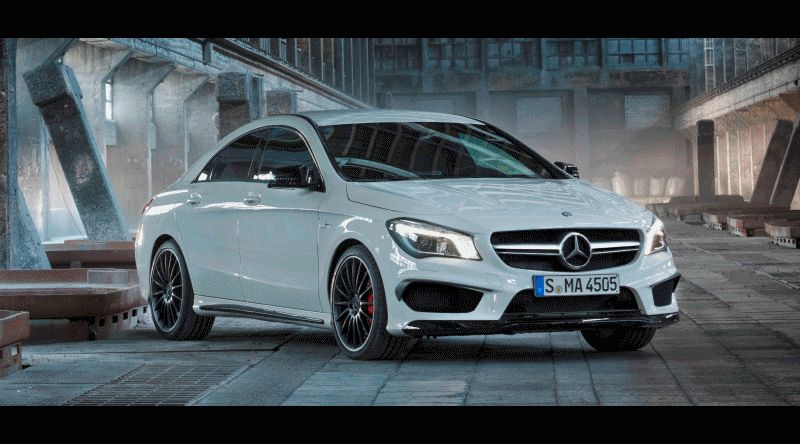 Well, the arrival of the CLA-Class surely confirms that they were very serious.
Serious... about getting playful.

The CLA is launching in the American market as the front-drive CLA250 and the all-wheel-drive CLA45 AMG. Both run a highly advanced new platform, engine, transmission and electronic architecture.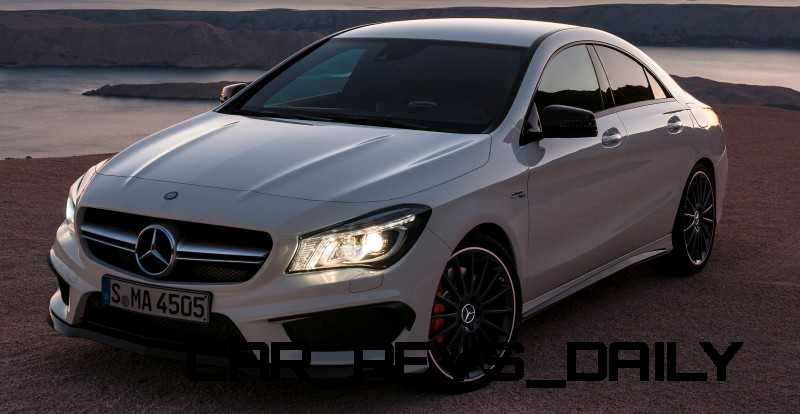 What perhaps previously took 0.002 milliseconds to transfer info from rear ABS sensors on old cars is now cut in half. Faster data = better responsiveness on tracks.

This is a ground-up design that put emphasis on two things:
- Looking Good in your CLA
- Feeling Good in your CLA
Mercedes has overcompensated for the CLA's front-drive origins by including an engine stronger than a block a adamantium.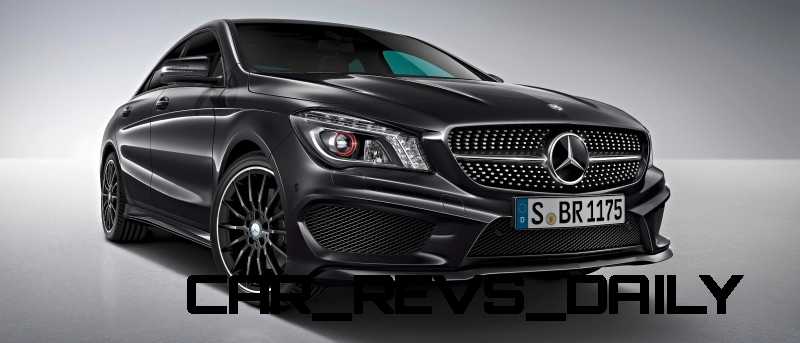 The launch of the standard CLA and AMG models together is a solid strategy, because it lets much of the cool style of the AMG rub off onto the much-cheaper 250 cars.
CLA250 Shown Directly Below
A 4Matic CLA250 will arrive in the U.S. market in April 2014, offering AWD traction and handling on the cheaper cars as well.

But until then: the CLA45 AMG is the sprint king of the segment: an official 4.5-seconds to 60 mph is conservative. Real-world times as low as 4.1-seconds are on the books for this car already while using the Race Start launch control settings.
The very similar A45 AMG hatchback video below shows how quick this car is, its blat on full boost, and the swiftness of the standard seven-speed dual-clutch auto.

Of course, the CLA45 AMG is pretty expensive for a car with a back seat this compact. Even so, the CLA is the quickest car in its class.
The competitive set listed by Mercedes for the CLA is pretty funny, because in my opinion, buyers who want a CLA would never consider a Volkswagen CC or any Acura.

Until the BMW 135i sedan arrives stateside next year, the CLA's closest competition will come from the 2015 Audi S3 sedan and the 2014 BMW 235i.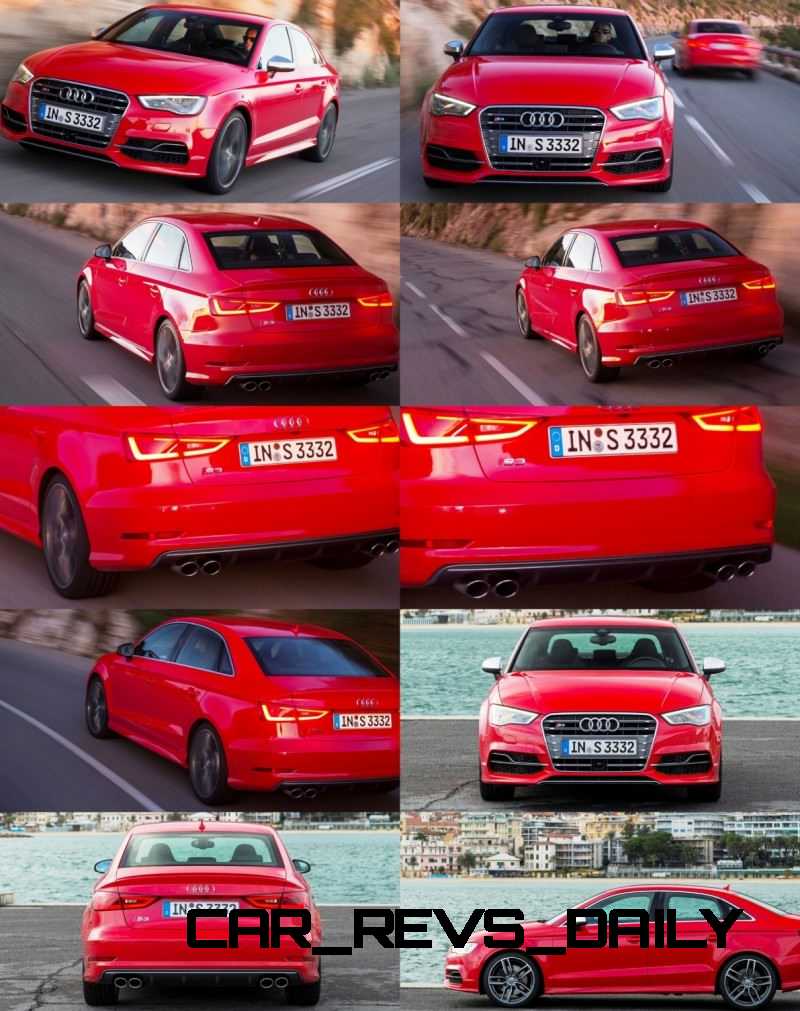 The battle is on!
Special thanks to Germany for improving the sprint pace of all cars. The 3.6-second E63 AMG 4Matic is so effortlessly fast - it makes speed a luxury feature missing on many other premium brands.
And rightly so! When a Civic Si and Toyota Camry V6 hit 60-mph in 6.1 seconds, it is time to get much faster at the top end of the market.
Of the English, American and Asian brands: only the Infiniti Q50S Hybrid in rear-drive gets close: 4.9-seconds is its official time (with full batteries.)
2014 Mercedes-Benz CLA45 AMG
2014 CLA45 AMG Quick Reference Guide
Customer Availability / Pricing
At a Glance
 

CLA45 AMG 4MATIC

MSRP

$47,450

Fuel Economy

TBA

Engine

2.0L inline 4-cylinder Turbocharged

Performance

355 hp

332 lb-ft torque

0-60 (sec.)

4.5 (est.)
2014 CLA250 Quick Reference Guide
Customer Availability
CLA250 (front-wheel drive) - September 2013

CLA250 4MATIC - Spring 2014
Standard Feature Highlights
2.0L inline 4-cylinder Turbocharged engine

7-Speed Dual Clutch Transmission

mbrace2 - In-Vehicle Technology Suite

5.8" Display Screen

Powered sports seats with three-position memory

ECO Start/Stop

Electro-mechanical power steering

COLLISION PREVENTION ASSIST

ATTENTION ASSIST

Frameless windows
Optional Feature Highlights
Sport Appearance Pkg (18" wheels & AMG Styling front/rear bumpers)

DISTRONIC PLUS

Blind Spot Assist

Lane Keeping Assist

PARKTRONIC w/ Advance Parking Assist

Panorama Sunroof

Leather Interior Package (MB-TEX on upper dash and doors with topstitching)
Model Positioning
All-new segment established with CLA-Class

World's most powerful four-cylinder engine built in series production

Trendsetting four-door coupe design
Main Competitors
Acura ILX

Audi A3

BMW 1-Series

Volkswagen CC
Safety Feature Highlights
COLLISION PREVENTION ASSIST ATTENTION ASSIST

Tire Pressure Monitoring System

Anti-Theft Alarm System

Electronic Parking Brake

Driver Air Bags

Window Air Bags

Driver Knee Air Bag

Side Impact Air Bags

Remote Key with Panic Button
2014 Mercedes-Benz CLA250 Sport and CLA250 4Matic
At a Glance
 

CLA250

CLA250 4MATIC

MSRP

$29,900

TBA

Fuel Economy

City: 26 MPG

Highway: 38 MPG

Combined: 30 MPG

TBA

Engine

2.0L inline

4-cylinder Turbocharged

2.0L inline

4-cylinder Turbocharged

Performance

208 hp

258 lb-ft torque

208 hp

258 lb-ft torque

0-60 (sec.)

6.9

6.8 (est.)
| | | |
| --- | --- | --- |
|   | CLA250 | CLA45 AMG 4MATIC |
| Vehicle Type | Four-door, five-passenger coupe | Four-door, five-passenger coupe |
| Chassis | Steel unibody | Steel unibody |
Engine
| | | |
| --- | --- | --- |
|   | CLA250 | CLA45 AMG 4MATIC |
| Type | 2.0-liter inline four-cylinder Turbocharged | 2.0L inline four-cylinder Turbocharged |
| Material | Aluminum | Aluminum |
| Valve arrangement | Four valves per cylinder | Four valves per cylinder |
| Valvetrain | Overhead cam, roller-type rocker arm | Overhead cam, roller-type rocker arm |
| Displacement (cc) | 1,991 | 1,991 |
| Bore (in.) | 3.27 | 3.27 |
| Stroke (in.) | 3.62 | 3.62 |
| Compression ratio | 9.8 : 1 | 8.6 : 1 |
| Horsepower @ rpm | 208 @ 5,500 | 355 @ 6,000 |
| Torque (lb-ft) @ rpm | 258 @ 1,250 - 4,000 | 332 @ 2,250-5,000 |
| Intake system | Turbocharged, direct injection | Turbocharged, direct injection |
| Max. engine speed (rpm) | 6,500 | 6,700 |
Performance
 

CLA250

CLA45 AMG 4MATIC

0-60 (sec.)

6.9

4.5 (est.)

Top speed (mph)

149

155

Fuel economy:

city

hwy

26

38

TBA

TBA
Transmission
| | | |
| --- | --- | --- |
|   | CLA250 | CLA45 AMG 4MATIC |
| Type | 7-Speed Dual Clutch Automatic | 7-Speed Dual Clutch Automatic |
| Shift controls | DirectSelect | DirectSelect |
| Gear ratios |   |   |
| 1 | 3.86:1 | 3.86:1 |
| 2 | 2.43:1 | 2.43:1 |
| 3 | 2.67:1 | 1.54:1 |
| 4 | 1.05:1 | 1.05:1 |
| 5 | 0.78:1 | 0.78:1 |
| 6 | 1.05:1 | 0.61:1 |
| 7 | 0.84:1 | 0.48:1 |
| R | -3.38:1 | -3.37:1 |
| R2 "comfort mode" | - | - |
| Final drive | 4.13:1 | 2.44:1 |
Suspension/Steering
| | | |
| --- | --- | --- |
|   | CLA250 | CLA45 AMG 4MATIC |
| Suspension type | Independent sport suspension | Independent AMG Sport Suspension |
| Front | McPherson spring strut & wishbone | Three-link, coil springs, McPherson gas-filled struts, stabilizer bar with anti-dive geometry |
| Rear | Wishbones & control arms | Four-link, coil springs, gas-filled struts, stabilizer bar, anti-squat geometry |
| Steering | Rack-and-pinion, peed-dependent electric power assist | Rack-and-pinion, speed-dependent electric power assist |
| Turns, lock-to-lock | TBA | TBA |
| Steering ratio | 14.4 : 1 | 14.5 : 1 |
| Turning circle (ft.) | 36.1 | 36.1 |
| Stability control | ESP Stability Control | AMG 3 Stage ESP Stability Control |
| Traction control | ASR | ASR |
Exterior Dimensions
| | | |
| --- | --- | --- |
|   | CLA250 | CLA45 AMG 4MATIC |
| Wheelbase (in.) | 106.3 | 106.3 |
| Length (in.) | 182.3 | 184.7 |
| Width including mirrors (in.) | 80.0 | 80.0 |
| Width excluding mirrors (in.) | 70.0 | 70.0 |
| Height (in.) | 56.6 | 55.74 |
| Ground clearance (in.) | 3.9 | TBA |
| Track front (in.) | 60.9 | 61.3 |
| Track rear (in.) | 60.8 | 61.4 |