So you like the Ford Raptor and that feeling of being unstoppable on any terrain?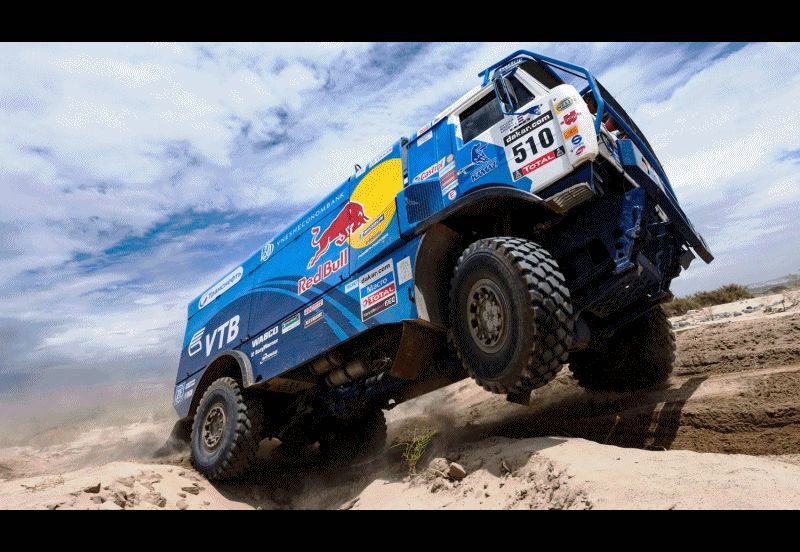 Try the Kamaz-4911 on for size:
- 17.2-liter, mid-mounted TD V8 engine
- 730 horsepower @ 2500 rpm
- 1991 pound-feet of torque @ 1300 rpm
- Maximum Speed - 102.5 MPH
Trust me, I had to check those numbers thrice myself. A 17-liter V8 is cool, but only the start of the fun for this multi-purpose truck platform.

Initially designed with six and eight-wheel options and variants, the Kamaz 4911 basically runs the engine from a tank, but in a (relatively) lightweight racing chassis.
These trucks were previously best known for their transport of ICBM missiles through Red Square in Moscow, but have found new purpose trampling competing trucks in the Dakar Rally.
I put together this little graph showing how Kamaz, a Swiss-Russian heavy machinery manufacturer, has dominated the sport's T4 truck class.

11 wins total is more than double the nearest competitor.

This truck wins races, with unstoppable selectable locking wheels at all four corners, or just a rear-drive drifters' special.
Kamaz also offers the 4911 to customers with various levels of armor plating - both exterior and hidden plates are offered - very helpful in all types of "they are shooting at us" scenarios.
No such hostility to the Dakar race since its relocation to South America - where the population of people is sparse and welcoming to almost anything new on the horizon.
A top speed of 100MPH-plus and that chin full of lights would be enough to scare me from taking a pot shot at this beast.
That, and the 4911 sounds like an air raid siren at speed - its diffs, engine and tires all thrumming up quite a storm of noise at full speed.

The 4911 is currently competing with the Red Bull Desert Wings squad in the 2013 Dakar race. The sand starts to fly on January 5th!
To all the Desert Wings... Have fun, be safe, and perhaps... take some in-cab videos for the rest of us to ride along?
KAMAZ-4911
Dimensions
Length: 4.20 meter
Wheelbase: 4.20 meter
Width: 2.32 meter
Energy
Max Torque: 2,700 Nm
Percent
Gradient: 60 %
Performance
Ditch Crossing Ability: 0.60 meter
Fording Depth: 1.75 meter
Step Climbing Ability: 0.55 meter
Power
Power: 700 hp (522 kW)
Speed
Top Speed: 165 kph (46 mps)
Weight
Cargo: 5,000 kilogram
Max Weight: 15,600 kilogram

KAMAZ-4911
Fuel System
| | |
| --- | --- |
| Fuel tank capacity, l | 400+400 |
Engine
| | |
| --- | --- |
| Model | YMZ-7E846 |
| Type | Diesel, turbocharged |
| Nominal power, gross, kWt (hp)/ at crankshaft rotation, rpm | 538 (730) / 2500 |
| Maximum torque, net, Nm (kgcm) / at crankshaft rotation, rpm | 2700 / 1300-1400 |
| Arrangement and number of cylinders | V-shape, 8 |
| Displacement, l | 17,24 |
| Cylinder diametre and piston stroke, mm | 140/140 |
| Compression ratio | 15,2 |
Weights and Load capacities
| | |
| --- | --- |
| Curb vehicle weight, kg | 7250 |
| Gross vehicle weight, kg | 12000 |
Electrics
| | |
| --- | --- |
| Voltage, V | 24 |
| Storage batteries, V/Ah | 2x12/190 |
| Generator, V/wt | 28/2000 |

Clutch
| | |
| --- | --- |
| Type | Friction, dry, one-plate |
| Drive | Hydraulic with pneumatic booster |
Gearbox
| | |
| --- | --- |
| Model | 16S-251 |
| Type | Mechanical, 16-speed |
| Control | Mechanical, remote |
Brakes
| | |
| --- | --- |
| Drive | Pneumatic |
| Drum diametre, mm | 400 |
| Brake linings width, mm | 220 |
Wheels and Tyres
| | |
| --- | --- |
| Wheel type | Disc |
| Tyre type | Pneumatic, pressure adjustment |
| Rim size | 12.2-20,9 (310-533) |
| Tyre size | 425/85 R21 (1260x425-533P) |
Cab
| | |
| --- | --- |
| Type | Over the engine, 3-seat |
General Data
| | |
| --- | --- |
| Maximum speed, not less, km/h | 165 |
| Maximum gradient, not less, % | 36 |
| Outer turning radius, m | 11,3 |
| Note! | Specifications of 12 000 kg gross weight truck |
Transfer Case
| | |
| --- | --- |
| Type | STYER VG2000/300, mechanical, two-speed with blocked interaxable differential |
| Gear ratio of high gears (low) | 3,55 |