The 2014 Kia Soul is hugely revised for 2014, with helpful updates throughout to enhance comfort and style.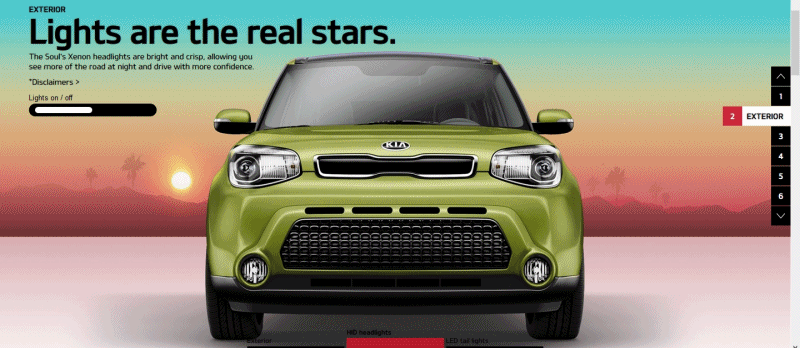 Many people do not understand these boxy compacts. Allow me to illustrate the ideal target market: teens whose nights out might include much more "cruising around" than actual destinations.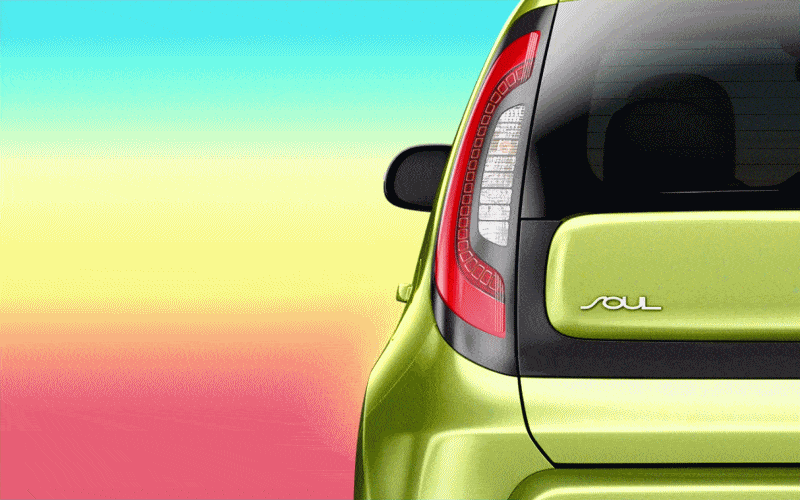 For these aimless but high-mile young drivers: an upright seating position, thumping audio, and fresh style are the key buying metrics. Pace? Not really mandatory.
A multi-hose hookah pipe might be a popular option, if offered, however... or would have been with my pals back in the day.

With pricing from just $15,000, the Soul's enormous cargo area and mini-Evoque looks are certainly hip and youthful. The new panoramic glass moonroof is also a classy option in this segment, and an exclusive feature versus the Nissan Cube and Scion xB.
But the real styling hit comes after dark: LED accents up front in a solid bar of light above the projector main beams, and a ring of LED brake lights in back. Overall, cleaning up the lighting elements was a critical part of this second-gen Soul's design - as seen in the comparisons versus last year's model below. (2014 on left, 2013 on right).
It is certainly distinctive on the road, and looks really unique from behind with those lights illuminated.
A glossy black surround joins the tailgate in back, and leaves a surfboard of color in the middle that is very stylish.

2014 Kia Soul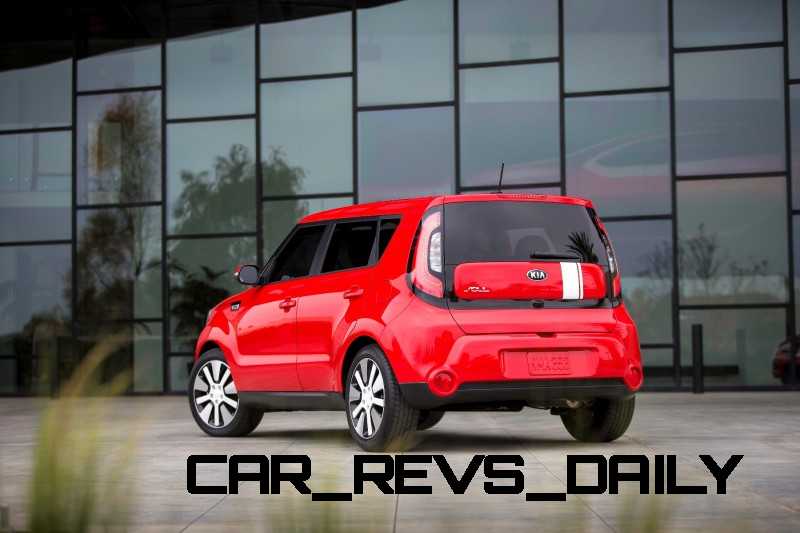 2014 Kia Soul - Pricing and Packages
Model
Description
Msrp
Soul Base
1.6L GDI I4 - 6 M/T
$14,700.00
Soul Base
1.6L GDI I4 - 6 A/T
$16,700.00
Soul +
2.0L I4 - 6 A/T
$18,200.00
Soul !
2.0L I4 - 6 A/T
$20,300.00
Soul +
Red Zone Special Edition
$23,200.00
Factory Installed Options
Msrp
Comments
Base
+
!
Soul 6-speed Automatic Transmission
Included in 1.6L GDI I4 - 6 A/T
Yes
-
-
- Active ECO system
- Sportmatic
- 16" Alloy wheels
- Cruise control with steering-wheel-mounted controls
- Center console armrest and storage
- Rear center armrest with cup holders
- Remote keyless entry
- Illuminated ignition cylinder ring
Red Zone Special Edition Package
Exclusive only for Soul+ Red Zone Special Edition; includes Audio Package and UVO eServices
-
Yes
-
- Unique front, rear and side body kit
- Red accented front grille
- Unique 18-inch alloy wheels
- Rear spoiler
- Projector headlights with unique tube-type LED positioning lights and LED taillights
- Sporty red interior trim accents
- Unique floor mats with red accents
- Sport pedals
Audio Package
$1,400.00
Requires UVO eServices Package
-
Yes
-
- Navigation with 8" display and HD radio
- Infinity Audio system with center speaker, subwoofer and external amplifier
- Speaker lights
- Automatic temperature control with cluster ionizer
- Leather-wrapped steering wheel and gearshift knob
- Leatherette meter hood, door center trim inserts, door armrest
- Piano black accents (center fascia panel, steering wheel bezel, shift knob cover, door armrest garnish, console upper cover)
- Satin chrome inside door handles
ECO Package
$400.00
Not available with Audio Package, UVO eServices Package or Primo Package
-
Yes
-
- ISG (Idle Stop and Go system)
- Low rolling resistance tires
- 16" Alloy wheels (vs. 17")
- P205/60 R16 tires
Primo Package
$3,000.00
Requires UVO eServices Package and Audio Package
-
Yes
-
- Panoramic sunroof with power sunshade (Replaces Roof rack ready - mounting points)
- Leather trim seats
- 10-way power driver's seat including lumbar support
- Ventilated driver's and front passenger's seats (3-levels)
- Heated front seats (3-levels)
- Heated rear outboard seats (2-levels)
- Heated steering wheel
- Push-button start with Smart key
- Immobilizer
- Front fog lights
Sun and Sound Package
$2,600.00
-
-
Yes
- Navigation with 8" display
- Infinity Audio system with center speaker, subwoofer and external amplifier
- Speaker lights
- Automatic temperature control with cluster ionizer
- Panoramic sunroof with power sunshade (Replaces Roof rack ready - mounting points)
UVO eServices Package
$500.00
-
Yes
-
- UVO with eServices
- Rear-camera display
- Auto-on/off headlights
The Whole Shabang Package
$2,500.00
Requires Sun and Sound Package
-
-
Yes
- Leather trim seats
- Ventilated driver's and front passenger's seats (3-levels)
- Heated front seats (3-levels)
- Heated rear outboard seats (2-levels)
- Heated steering wheel
- Push-button start with Smart key
- Immobilizer
- HID low-beam headlights with auto leveling
- LED positioning lights (individual jewel type)
- Supervison meter cluster with 4.3" TFT color LCD display (inside the meter cluster)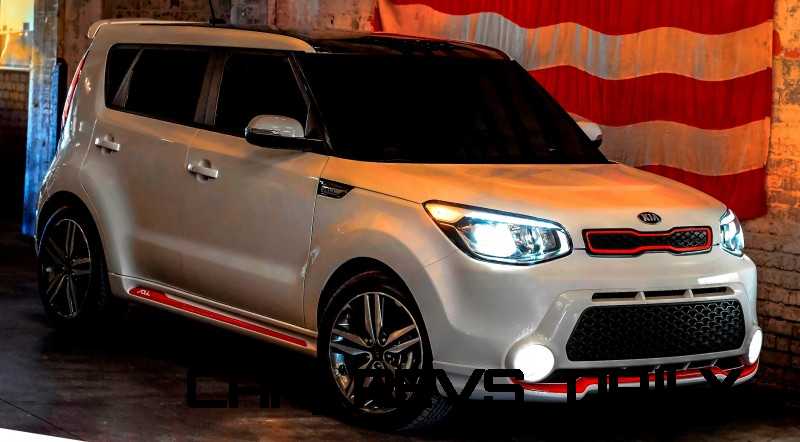 2014 Kia Soul - Specifications
Engine
Base
+
!
Type/layout
1.6L I-4 DOHC Gasoline Direct Injection (GDI)
2.0L I-4, DOHC Gasoline Direct Injection (GDI)
2.0L I-4, DOHC Gasoline Direct Injection (GDI)
Displacement (cc)
1,591 cc
1,999 cc
1,999 cc
Bore x stroke (mm)
75.0 x 85.4 mm
81.0 x 97.0 mm
81.0 x 97.0 mm
Compression ratio
11.0:1
11.5:1
11.5:1
Horsepower
130 hp @ 6,300 rpm
164 hp @ 6,200 rpm
164 hp @ 6,200 rpm
Torque
118 lb.-ft. @ 4,850 rpm
151 lb.-ft. @ 4,000 rpm
151 lb.-ft. @ 4,000 rpm
Drivetrain
Base
+
!
Transmission
6-speed manual
6-speed automatic
6-speed automatic
Layout/drive
Front engine/FWD
Front engine/FWD
Front engine/FWD
Exterior Dimensions
Base
+
!
Wheelbase (in.)
101.2 in.
101.2 in.
101.2 in.
Length (in.)
163.0 in.
163.0 in.
163.0 in.
Width (in.)
70.9 in.
70.9 in.
70.9 in.
Height (in.)
63.0 in.
63.0 in.
63.0 in.
Track (in.), front/rear
62.0 in./62.5 in.
61.7 in./62.2 in.
61.4 in./61.9 in.
Curb weight (lbs.)
2,714 lbs.
2,837 lbs.
2,837 lbs.
Fuel capacity (gal.)
14.2 gal.
14.2 gal.
14.2 gal.
Interior Dimensions
Base
+
!
Seating capacity
5 passenger
5 passenger
5 passenger
Head room, front/rear (in.)
39.6 in./39.5 in.
39.6 in./39.5 in.
39.6 in./39.5 in.
Leg room, front/rear (in.)
40.9 in./39.1 in.
40.9 in./39.1 in.
40.9 in./39.1 in.
Shoulder room, front/rear (in.)
55.5 in./54.7 in.
55.5 in./54.7 in.
55.5 in./54.7 in.
Passenger volume (cu. ft.)
101.0 cu. ft. (without panoramic sunroof)
101.0 cu. ft. (without panoramic sunroof) / 96.8 cu. ft. (with panoramic sunroof)
101.0 cu. ft. (without panoramic sunroof) / 96.8 cu. ft. (with panoramic sunroof)
Cargo volume (rear seat up) (cu. ft.)
24.2 cu. ft. (without under tray) / 18.8 cu. ft. (with under tray)
24.2 cu. ft. (without under tray) / 18.8 cu. ft. (with under tray)
24.2 cu. ft. (without under tray) / 18.8 cu. ft. (with under tray)
Cargo volume (rear seat down) (cu. ft.)
61.3 cu. ft. (without under tray) / 49.5 cu. ft. (with under tray)
61.3 cu. ft. (without under tray) / 49.5 cu. ft. (with under tray)
61.3 cu. ft. (without under tray) / 49.5 cu. ft. (with under tray)