A charming, *exclusive* time-lapse of a 1961 model's rebirth from MINI, just as the firm debuts its hottest 2014 JCW Concept and the all-new Hardtops are officially official.
Long pre-amble: Short video.
Enjoy this '61 Mini's rebirth.


This 1961 Austin Seven was originally built in the Netherlands after Mini fever swept Britain and wider Europe by storm. Similar tides these days, as Mini has signed up to build cars again in the Netherlands starting in Summer 2014.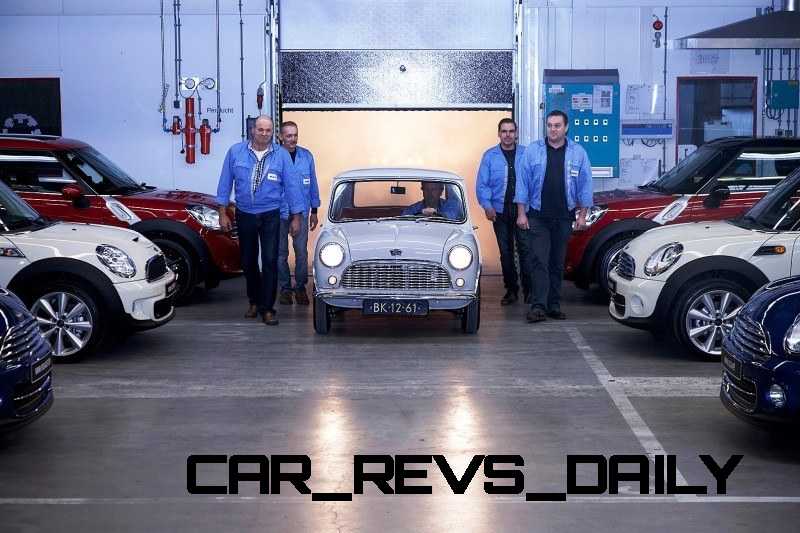 While this is not a fully Mini plant, the Dutch crew is giving it all of their love. A team of – no joke – "midwives" are on hand to make sure that Mini's Bulldog spirit is in every car they make.

Yes, Americans do not know where (or what) the Netherlands is located. Yes, we do not know our Norway from our Denmark to save a life.
But what's critical is this: it is only a tank-full of gasoline away from Mini's Oxford, England home base. That is like a quick drive to IKEA for many Yankees, so easily understandable.
Official release from MINI below.
Munich/Born.
Car number 983 is back on the road, heralding a revival of MINI production in the Netherlands in the near future.

A 54-year-old classic Mini has been fully restored at the VDL Nedcar car manufacturing plant in the town of Born, the precision work lasting around six months.

The historic Austin Seven with production number 983 dates back to 1959 and was one of the first examples of the classic Mini to be assembled in the Netherlands.

The car was unearthed last year in an old barn in Groningen, ravaged by the passage of time and as such an ideal candidate for the "reBorn" mission.
The classic machine has since been imbued with a fresh injection of sparkle, making it the perfect scene-setter for a new chapter in Dutch-British car making relations. Next year VDL Nedcar will begin production of MINI models under contract; MINI will be the only manufacturer having vehicles series-produced in the Netherlands.
And so MINI is poised to retrace the steps of its historic forebears. Just a few months after its launch in August 1959 – in Morris Mini-Minor and Austin Seven form – the classic Mini found itself an additional birthplace in continental Europe, the Amersfoort-based firm J.J. Molenaar's Car Companies turning its hand to assembly of the classic Mini between 1959 and 1966. More than 4,000 units were built over this period, using components delivered from the United Kingdom, plus one or two special additions only found in the Kingdom of the Netherlands.
Among the select group of 30 cars built in that first year in Amersfoort was the Austin Seven now making its post-barn comeback. This may therefore be the oldest example of the Dutch-built classic Mini currently in roadworthy condition; it is absolutely one of the oldest representatives of the brand anywhere in the world. But to top it all, it is a genuine "barn find" having been hidden away in said abode for almost a quarter of a century before being re-discovered and examined by BMW Group Netherlands employees. The decision to restore the car was taken quickly, aided by the certainty regarding its origins. The car's chassis and production numbers were easily identifiable and the seats were upholstered – in traditional Dutch style – using real horsehair.