Kia has been signalling its upmarket intentions for years now, and is really acting on that ambition in a pretty remarkable way.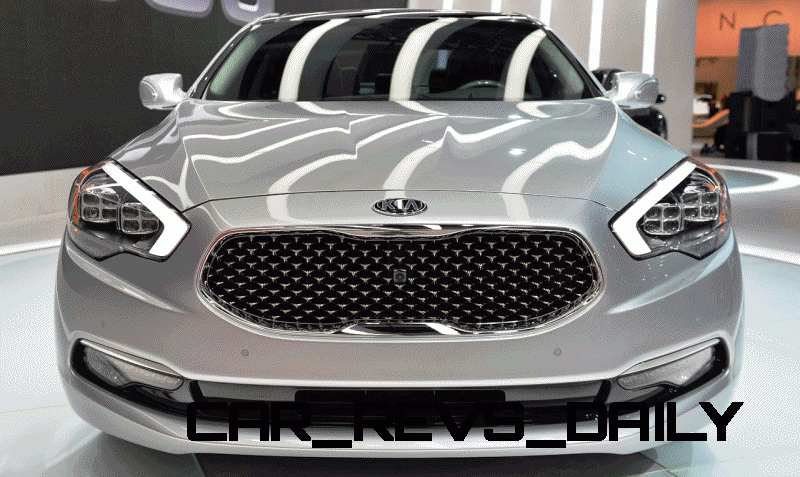 The upcoming flagship Kia K900 is not priced yet, but is set to arrive in spring 2014 across the U.S. with rear-drive and the choice between a 310-horsepower V6 engine or the 5.0-liter V8 from the Hyundai Genesis R-Spec.
But what is Kia's real ambition in the executive limo market? The company is realistic about the challenges in luring conquest sales from BMW, Mercedes-Benz, Audi and Lexus. The K900 is a long-term vision for the company, asserted with a 120-inch wheelbase and swanky tech.
Developing a luxury flagship can have numerous benefits outside of direct profits and revenue. As VW showed with the Phaeton project, luxury standards are able to be passed from top products downward into even the lowly Golf and Polo.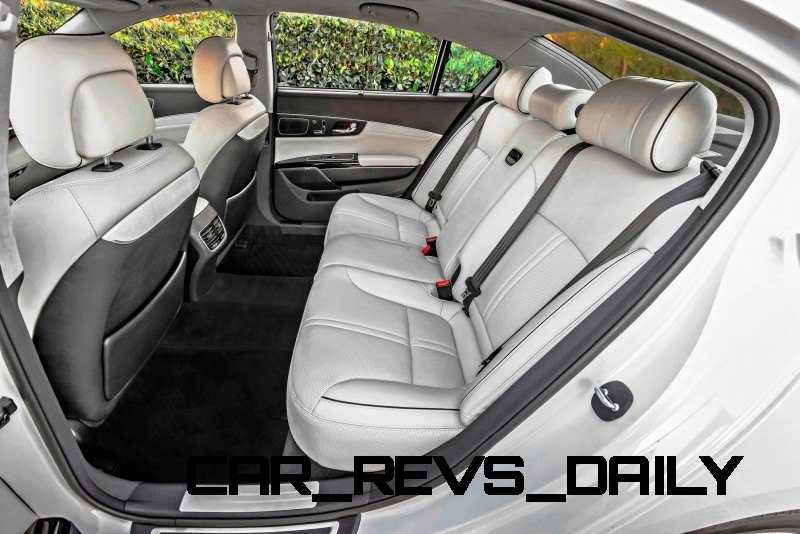 Would VW have known as much about NVH isolation without Phaeton? Or realized the limits of its U.S. sales network - dingy, old-Kmart-looking "import" dealerships?
No, Phaeton taught these lessons and they are still being learned across the VW Group.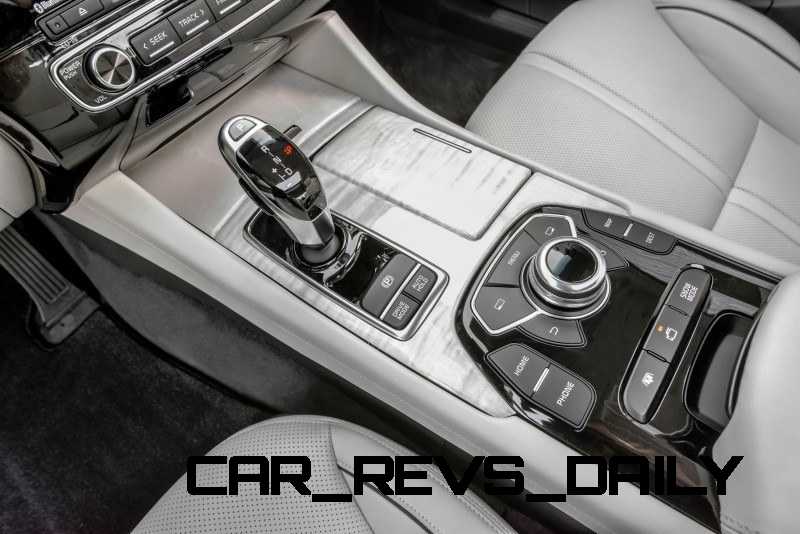 Kia wants a share of luxury knowledge and innovation, as well as a bit of an edge versus the goody-goody Hyundai brand that enjoyed the RWD Genesis launch all to itself until now.
Will the K900 be any good? That is not immediately clear.
What is clear is that the K900 is very homely. It looks sad and grumpy from all angles. This is the second version of the international Kia Quoris/K9 - and both are equally unappealing.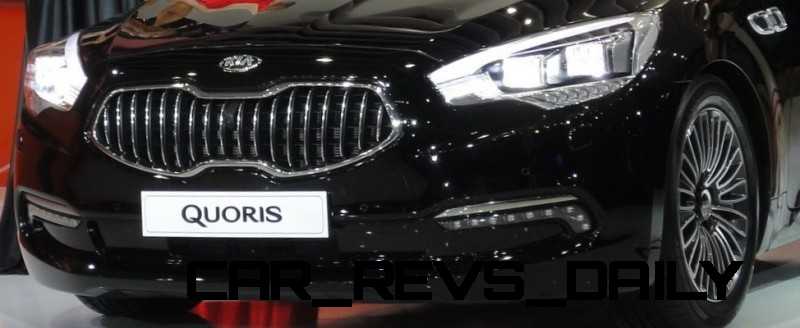 The double quad LED low and high-beams (standard on the K900 V8) are the best part of a dull design.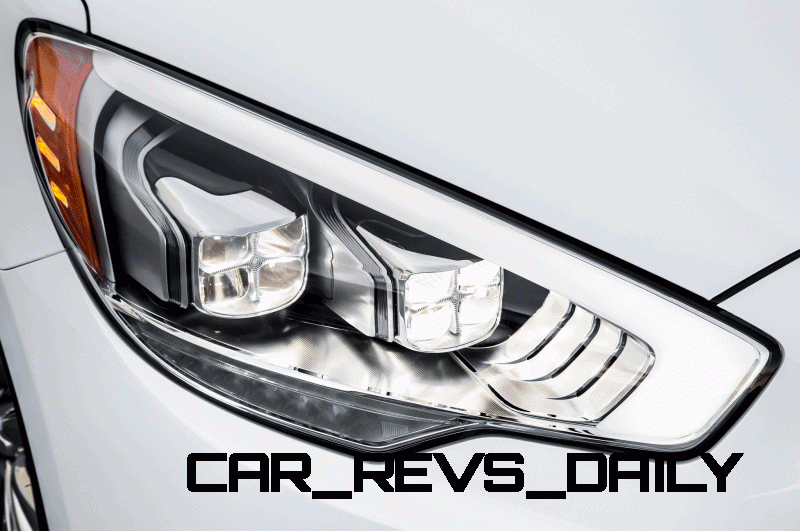 Overall, the K900's design is a mash-up of tired old Lexus and BMW themes, but tweaked to avoid it looking like a copy.

Like a fake "Rucci" or "Pardo" handbag - this thing still looks as fake as the Daewoo Leganza when sitting next to its S550 4Matic, 740iL and LS460 peers. Tacky chrome treatments on the V8 model are especially garish, including the chromed wheels that look repulsive.

Performance promises to be lackluster, with an estimated 8.0-seconds to 60 mph for the V6, and barely an estimated 6.3 seconds for the V8.
The back seat - ever a prestige area for limo buyers - of the K900 looks huge, but the numbers tell a very different story. With only 38.2 inches of rear legroom, the K900 has about a half-inch less than the Hyundai Genesis - and a whopping three inches of missing legroom versus the Toyota Avalon.
A K900L could solve this problem easily, but will likely worsen performance and handling to unknown depths. (And bump prices far beyond Kia clientelle.)
Shoddy steering feel in $25,000 cars is not a big deal: most buyers care more about colors and tech and style.
But bad handling dynamics in a $50,000-plus limo? Buyers will know how a real luxury car should drive.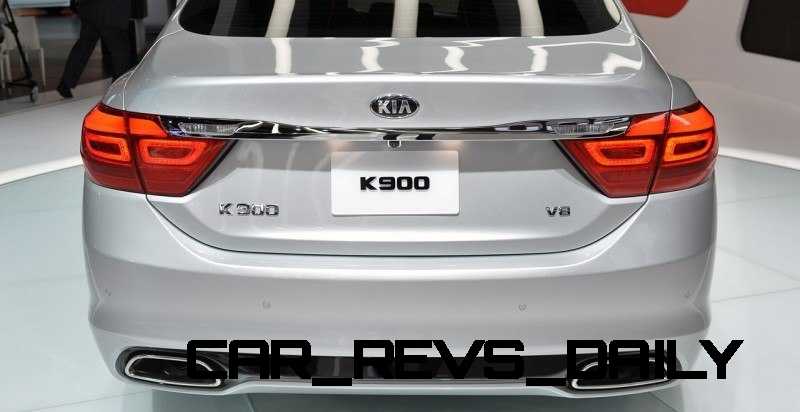 That takes us to the last, and largest, question mark.
Kia has been very ambitious with its pricing lately, losing focus on its value market positioning. The K900 cannot afford to be priced anywhere near established players like BMW and Mercedes-Benz.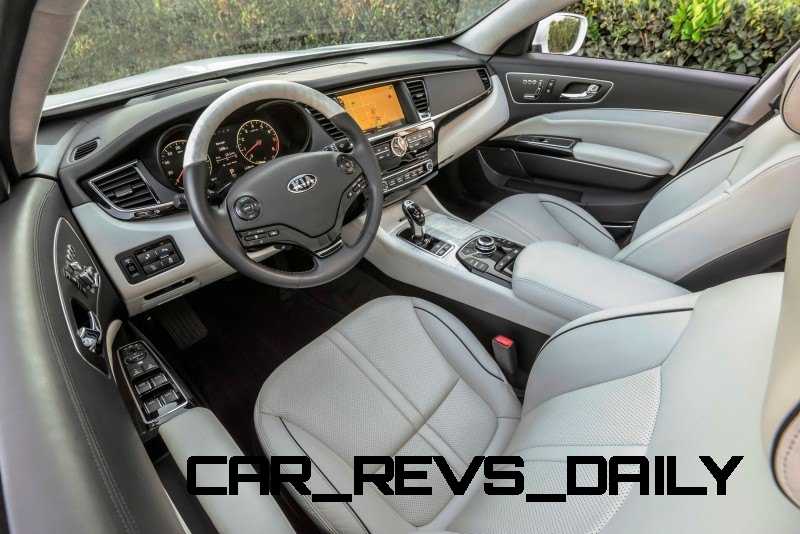 Worth recalling is that the 1990 Lexus LS400 - originally - cost barely half the price of the equivalent 740i or Mercedes 500SEL. That made buyers overlook certain deficiencies.
With Cadenza styling virtually identical, that FWD large car tops out at about $47,000. THis points to a $50,000 base for the K900 V6, and a projected $60,000 base for the K900 V8.
Will it sell or achieve success at those prices? No, it will not.
So Kia has many elements to sort out with this big K900 if it is to be popular anywhere outside of the home South Korean market.
This is a very ambitious and tactical company, however, that is very nimble and responsive to market demands. As even Cadillac tries for a piece of the $70,000-plus market, Kia has a lot of work do to on this K900 to even be vaguely competitive with the best.
One thing is for sure: K900 is better than the original name: The Kia K9.
Canine!?
Exterior Gallery
Interior Gallery
2015 Kia K900 - Features and Equipment
2015 Kia K900 Features & Options

 

S = Standard

-- = Not Available

O = Optional

 

Mechanical

V6

V8

3.8L Gasoline Direct Injection V6 engine

S

--

5.0L Gasoline Direct Injection V8 engine

--

S

8-speed automatic transmission

S

S

Rear-wheel drive

S

S

Shift-by-cable

S

--

Shift-by-wire gear selector

O

S

Drive mode select (Sport, Normal, Comfort & Snow)

S

S

 

Exterior

V6

V8

18" tires with alloy wheels

S

--

19" tires with chrome wheels

--

S

HID headlights with adaptive front lighting system (AFLS)

S

--

LED headlights

--

S

LED fog lights

S

S

Smart Key remote keyless entry

S

S

Auto rain sensing wipers

S

S

Power-folding side mirrors

S

S

Illuminated door scuff plates

S

S

Panoramic sunroof with power shade

O

S

Chrome tail-pipe finish

S

S

LED taillamps

S

S

Soft-close power door latches

O

O

Hydrophobic front side glass

S

S

Power trunk open/close

S

S

 

Interior & Convenience

V6

V8

USB/auxiliary input jacks

S

S

Bluetooth® wireless technology

S

S

Steering wheel-mounted audio/Bluetooth® wireless technology/cruise-control buttons

S

S

Leather-wrapped steering wheel

S

--

Heated leather-wrapped steering wheel with genuine wood

O

S

Power tilt & telescopic steering column

S

S

12.3-inch full TFT LCD instrument cluster

S

O

Leather-wrapped upper dash, center console, door panel insert

S

S

AM/FM/CD/MP3/SiriusXM audio system

S

S

Lexicon® 2 Discrete Logic7 900-watt surround-sound audio with 17 speakers

S

S

9.2-inch Navigation system with rear-camera display

S

S

UVO eServices

S

S

Driver information system (DIS)

S

S

Auto-dimming rear-view mirror with HomeLink® and compass

S

S

Push-button start with Smart key

S

S

Back-up warning system

S

S

Around view monitor (AVM)

--

O

Power windows with one-touch auto up & down

S

S

Power door locks with remote keyless entry

S

S

Three-zone temperature control with ionized air filtration (Dual, front & rear)

S

S

Rear seat center controls

S

S

Trip computer

S

S

EcoMinder® fuel-efficiency indicator

S

S

Blind spot detection system (BSD)

O

S

Rear cross traffic alert (RCTA)

O

S

Panoramic sunroof

O

S

Cruise control

S

S

Advanced smart cruise control (ASCC)

O

O

Lane departure warning system (LDWS)

O

S

Advanced vehicle safety management (AVSM)

O

O

Electronic parking brake

S

S

Power rear sunshade

S

S

Front and rear parking sensors with Park Guide System (PGS)

S

S

Credit card-sized smart key

S

S

 

Seating & Trim

V6

V8

Leather seat trim

S

S

Premium Nappa leather seat trim

O

S

12-way power adjustable driver's seat with lumbar support

S

S

16-way power adjustable driver's seat including adjustable headrest

O

O

8-way power front passenger seat

S

S

Driver seat memory

S

S

Ventilated front seats

S

S

Heated front seats

S

S

Rear heated outboard seats

S

S

Rear ventilated outboard seats

--

O

Power 60:40 reclining 2nd row seats

--

O

Leather-wrapped steering wheel/gearshift knob

S

S

Genuine wood interior trim, center console

O

S

Aluminum trim accents

S

--

Heated steering wheel with genuine wood trim

O

S

Rear seat ski pass through opening

S

S

 

Restraint & Safety Systems

V6

V8

Dual front advanced airbags

S

S

Dual front seat-mounted side airbags

S

S

Dual rear seat-mounted side airbags

S

S

Side curtain airbags (front and rear)

S

S

Front and rear 3-point seat belts

S

S

Front seat-belt pretensioners

S

S

Height-adjustable front seat-belt anchors

S

S

4-wheel disc brakes

S

S

4-wheel Antilock Brakes System (ABS)

S

S

Electronic Stability Control (ESC)

S

S

Traction Control System (TCS)

S

S

Brake-Assist System (BAS)

S

S

Tire-Pressure Monitoring System (TPMS)

S

S

Side-impact door beams

S

S

Lower Anchors and Tethers for Children (LATCH)

S

S
2015 Kia K900 - Official Specifications
2015 Kia K900 Specifications

 

Engine

V6

V8

Type/layout

3.8L V6 DOHC Gasoline Direct Injection (GDI)

5.0L V8, DOHC Gasoline Direct Injection (GDI)

Displacement

3,778 cc

5,038 cc

Bore x stroke (mm)

96.0 x 87.0 mm

96.0 x 87.0 mm

Compression ratio

11.5:1

10.5:1

Horsepower

311 hp @ 6,000 rpm

420 hp @ 6,400 rpm

Torque

293 lb. ft. @ 5,000 rpm
376 lb. ft. @ 5,000 rpm

 

Drivetrain

V6

V8

Transmission Gear Ratios: 8-speed automatic transmission

-

-

First

3.665:1

3.795:1

Second

2.396:1

2.473:1

Third

1.610:1

1.613:1

Fourth

1.19:1

1.177:1

Fifth

1.00:1

1.00:1

Sixth

0.826:1

0.831:1

Seventh

0.643:1

0.652:1

Eighth

0.556:1

0.571:1

Reverse

2.273:1

2.467:1

Final drive ratio

3.909:1

3.538:1

Layout/drive

Front engine/RWD

Front engine/RWD

 

Exterior Dimensions

V6

V8

Wheelbase (in.)

119.9 in.

119.9 in.

Length (in.)

200.6 in.

200.6 in.

Width (in.)

74.8 in.

74.8 in.

Height (in.)

58.7 in.

58.7 in.

Track (in.), front/rear

63.6 in. / 64.3 in.

63.8 in. / 64.1 in.

Curb weight (lbs.)

4,277 lbs.

4,555 lbs.

Fuel capacity (gal.)

19.8 gal.

19.8 gal.

 

Interior Dimensions

V6

V8

Seating capacity

5 passenger

5 passenger

Head room, front/rear (in.)

40.2 in. / 37.6 in.

40.2 in. / 37.6 in.

Leg room, front/rear (in.)

45.9 in. / 38.2 in.

45.9 in. / 38.2 in.

Shoulder room, front/rear (in.)

59.1 in. / 57.2 in.

59.1 in. / 57.2 in.

Passenger volume (cu. ft.)

110.8 cu. ft.

110.8 cu. ft.

Cargo volume (cu. ft.)

15.9 cu. ft

15.9 cu. ft

Total volume (cu. ft.)

126.7 cu. ft.

126.7 cu. ft.

 

Chassis/Suspension

V6

V8

Front

Multi-link type

Multi-link type

Rear

Multi-link type

Multi-link type

 

Steering

V6

V8

Assist

Electric

Electric

Turns lock-to-lock

2.98

2.98

Steering ratio

15.8:1

15.8:1

 

Wheels/Tires

V6

V8

Wheel size (in.)

18 x 7.5

19 x 9.0

Tire size (front; rear)

245/50R18; 245/50R18

245/45R19; 275/40R19

 

Estimated Fuel Economy

V6

V8

City/Highway (mpg)

TBD

TBD