GT6 came out today for PlayStation 4, which just launched two weeks ago. Confirmed sales of the console in its first 14 days on the market:
More than 2.1 Million Units Sold.
By some rough number crunching, without any currency checks or actual retail pricing, Sony just got the ultimate Christmas present:
More than One Trillion Dollars in Revenue.

IN 14 DAYS!
What business are *we* in!? Just kidding…

Acura NSX Concept Gives First Track Thrills in GT6
After some well-intentioned, but "strange-looking" renderings of the future production Acura NSX earlier this week

here on CarRevsDaily

, some exciting official news from Acura regarding the NSX.
The Acura release does caveat that this is the 2012 NSX concept – not the real car arriving in calendar year 2015 to American Acura dealers.
Regardless, the NSX is playable in the game, with all the world-class physics engines of the Gran Turismo / Polyphony Digital team's expertise.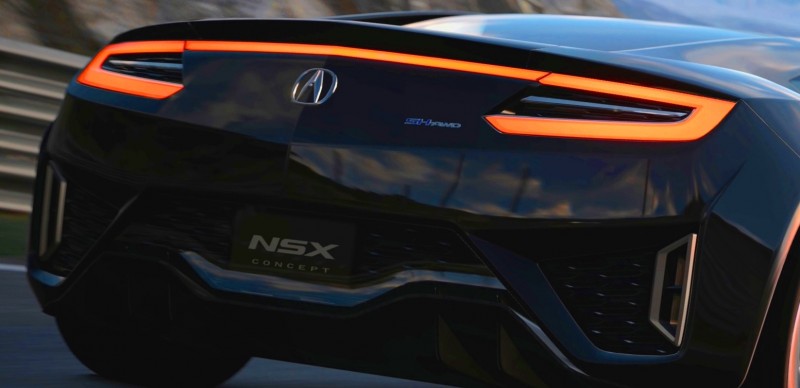 From reports read by us, the process of collecting a car's sample for Gran Turismo is very, very complicated.
Basically, the team of 30-plus engineers is dispatched to the track with the goal of capturing perhaps 3 terabytes of data in less than 10 hours.
Including:
– all mass / measurements / ultra-4K resolution action capture tech
– 3D modeling of all car actions (lights, brakes, doors, crashes, engines, tires, sounds, sights, motion)
– all dynamic handling traits
– all performance figures (demonstrated by "real" car on day of testing)
– everything.

I would not be surprised if the GT6 team did a cheek swab 23&me DNA test on all the chief engineers of the main cars in the game too.
All this data is then crunched for years, and eventually, should result in a the realistic driving simulator promise of the Gran Turismo game series.
Hopefully the NSX is a fun drive in the game – a proper supercar to run with the fastest racing classes.

Official Acura NSX Concept – GT6 Stills
Acura NSX Concept