Spotted my first white 2014 Honda Civic Si Coupe on the road tonight near Chicago, and it looked really confident and sporty.
While we sliced and diced in traffic, it was almost as if the Civic knew the horrible things I have written (and printed) about the Honda Civic ... in the past.
Ahh! 
While Honda and I do not always agree, we have a few important things in common.
Honda also loves my fair Sweet Home Chicago, with the night-time visualizer on

Honda.com showing the world-famous Wacker Drive

on that rare, blissfully-traffic-free time of night.
The 360-degree visualizer spins the very-new-looking 2014 Civic Coupe on Wacker Drive mlving West, just as the road turns southbound by the Nuveen Investments building, with its green glass and curved face.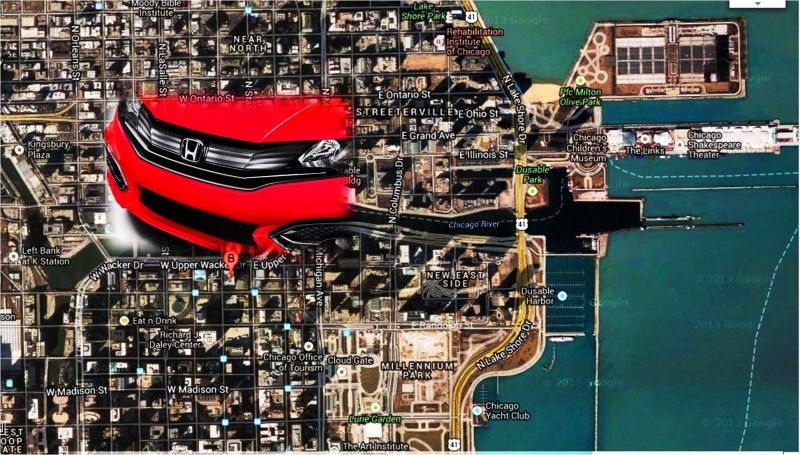 All these skyscrapers are landmarks up and down the Chicago River, including *at least* three of my old office buildings at 35 West Wacker Drive - Leo Burnett - and 35 E. Wacker Drive - MobileTheory.
Ahh! 
401 N Michigan in the wayyy background. Aegis Group's Carat Fusion.
Not important. Civic Coupe is all-new for 2014, and on sale now from just above $18,000.
Exterior Gallery - New 2014 Honda Civic Coupe
Official Details below.
TRIM

MSRP

EPA Fuel Economy Ratings
(city/highway/combined)

 

Civic Coupe LX 5MT

$18,190

28/36/31

Civic Coupe LX CVT

$18,990

30/39/33

Civic Coupe EX 5MT

$20,290

28/36/31

Civic Coupe EX CVT

$21,090

29/38/33

Civic Coupe EX-L CVT

$22,540

29/38/33

Civic Coupe EX-L Navi CVT

$24,040

29/38/33

Civic Sedan LX 5MT

$18,390

28/36/31

Civic Sedan LX CVT

$19,190

30/39/33

Civic Sedan EX CVT

$21,090

30/39/33

Civic Sedan EX-L CVT

$22,740

30/39/33

Civic Sedan EX-L Navi CVT

$24,240

30/39/33

Civic Sedan HF CVT

$19,940

31/41/35